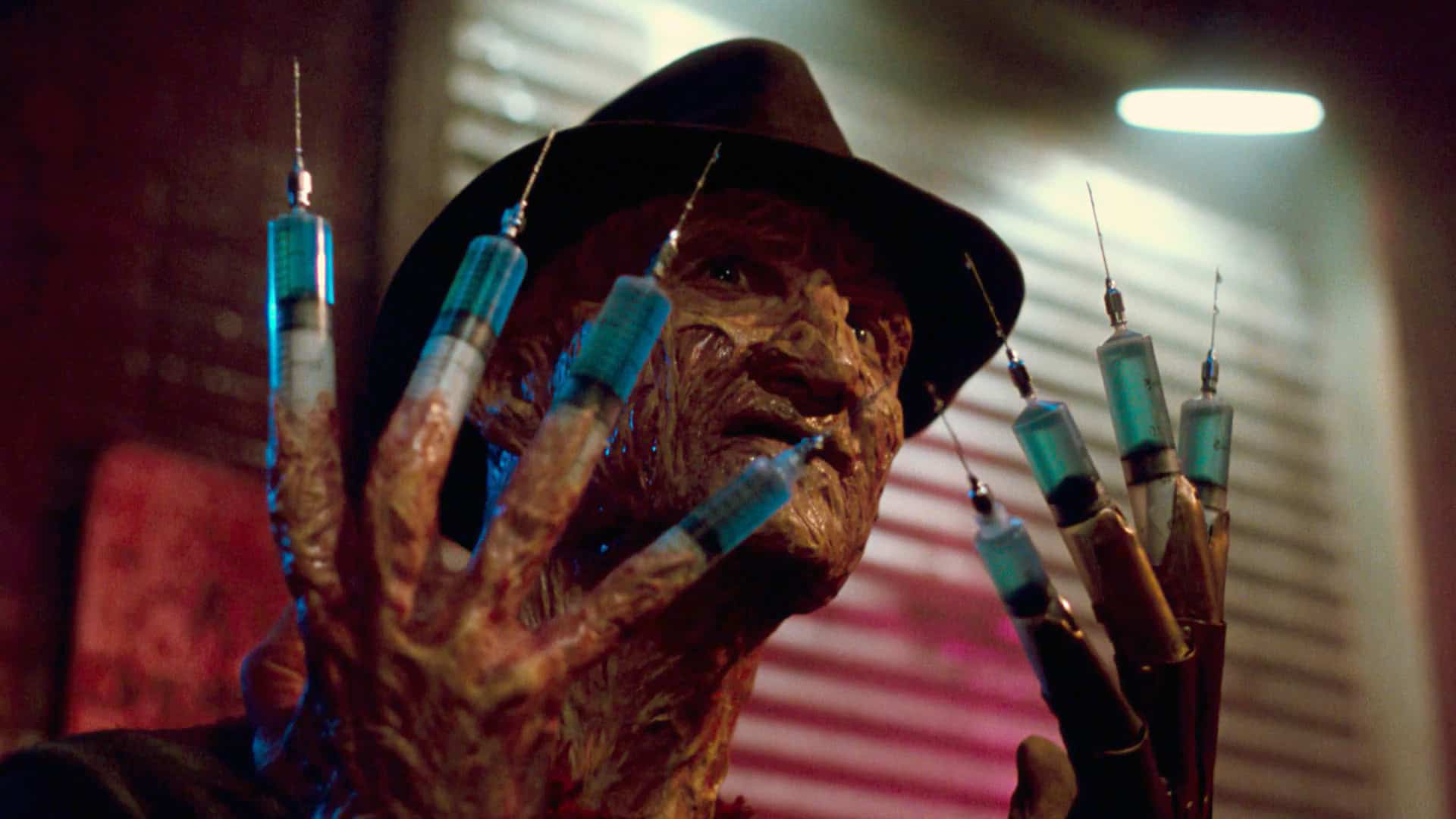 Synopsis: Set one year after the events of the second film, the survivors of the horror villain Freddy Krueger learn to take control of their dreams and fight back.
Director: Chuck Russell
Runtime: 96 minutes
MPAA Rating: R
IMDb: 6.5/10  Rotten Tomatoes: 74%

Netflix (US): No
Tags: Slasher
Jump Scares: 11 (0 major, 11 minor)
Jump Scare Rating: The film features a sizeable amount of jump scares that mostly occur within the dream sequences and involve the sudden appearance of Freddy Krueger.

WARNING: The jump scare descriptions listed below may contain minor spoilers
Show Descriptions
Jump Scare Times
8:12 – Kristen backs into a corpse.
8:52 – Kristen grabs the tap handle which then wraps around her hand.
21:05 – Something pops up underneath the mat on the floor.
21:33 – A large worm-like creature lifts up through the floor underneath Kristen.
39:50 – Hands reach out of both sides of the TV.
1:05:59 – Neil steals a cross but is immediately grabbed on his shoulder by a hand.
1:10:42 – A claw suddenly rips through the wall after Nancy says "How do we find him Kristen?"
1:12:05 – Kristen's mother is pulled through the doorway.
1:13:54 – Taryn watches as a man walks past, she then spins around to see Freddy behind her.
1:25:32 – Neil grabs the bag and a skeleton jumps out at him.
1:29:04 – Nancy gets struck by the bladed-glove while receiving a hug.
Download a .srt file of the jump scares in A Nightmare on Elm Street 3: Dream Warriors [more info].