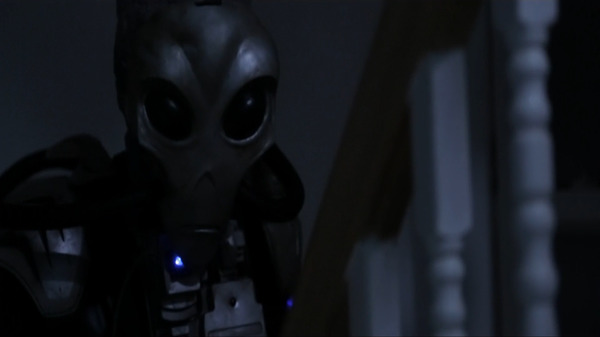 See below for the exact times and descriptions of the 13 jump scares in All Hallows' Eve , which has a jump scare rating of 3.0.
Jump Scare Rating: The film relies more on gore and atmosphere than jump scares. There is a decent amount of them throughout the film, but they're all very minor.


Synopsis: Two children and a babysitter watch a VHS tape featuring a series of murders committed by a silent clown.
Contributor: Nikola Donov contributed all the information on this page (Sign up now to become a contributor too! Learn more)
Director: Damien Leone
Runtime: 83 minutes
WARNING: The jump scare descriptions listed below may contain minor spoilers

Jump Scare Times
00:16:49 – One of the captives gets dragged away suddenly.
00:19:05 – A man with a disfigured face comes up from behind the woman.
00:20:33 – A man's face turns to a skeleton.
00:21:07 – The man with the crow mask's face distorts with a loud sound in the background.
00:27:36 – Some kids throw eggs at the house and they suddenly splatter at the window.
00:40:10 – A door suddenly slams.
00:43:50 – An alien creature appears in front of the camera.
00:47:05 – The alien finds the woman hiding.
00:56:30 – The clown runs out from the side of the gas station.
01:02:43 – The clown appears in front of the woman's car window.
01:03:39 – The woman turns the driver over to see that it's a man with a severely disfigured face.
01:07:52 – The woman raises her head to see the clown right in front of her.
01:13:19 – The video suddenly zooms in on the clown's face.
Watch with subtitles that warn you about jump scares! Download the .srt file of the jump scares in All Hallows' Eve. [More info]
Report inaccurate data: Contact us with the URL of this page and a description of what data is inaccurate. We'll work to get it fixed!