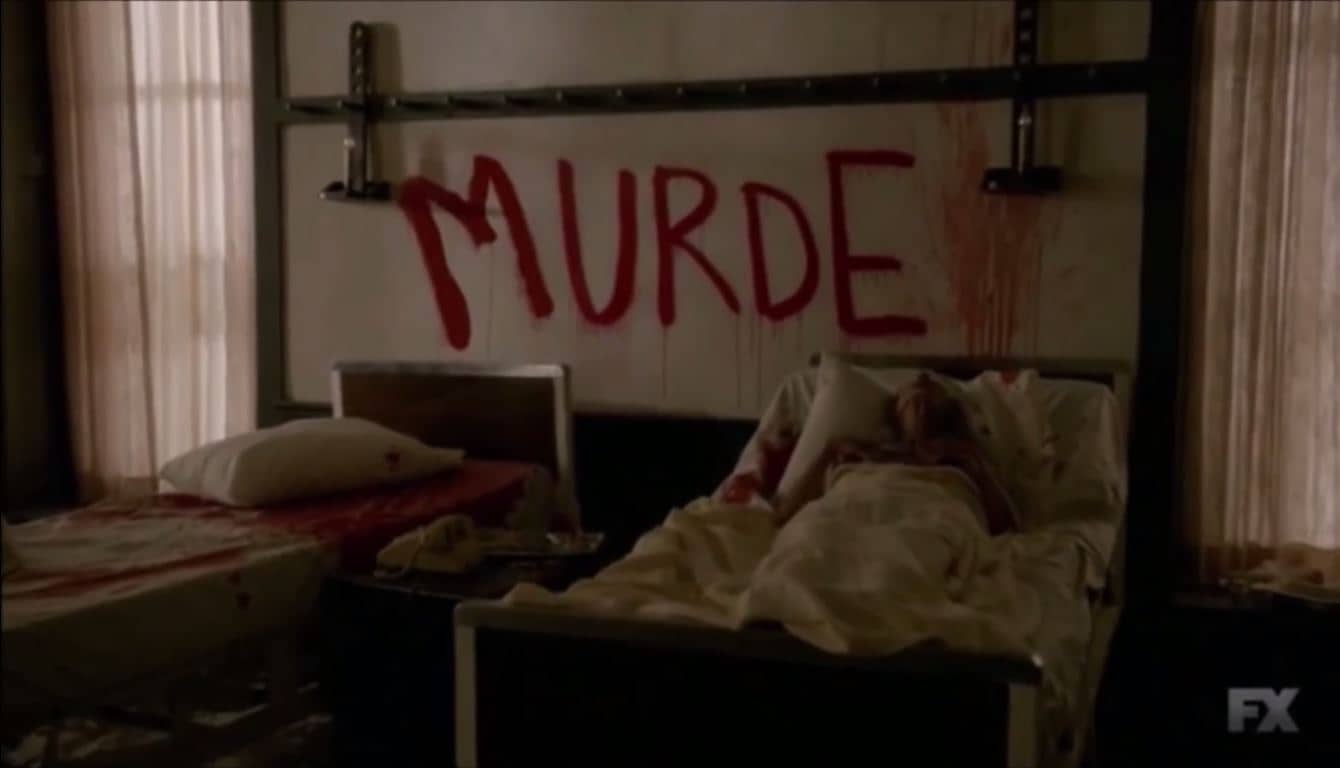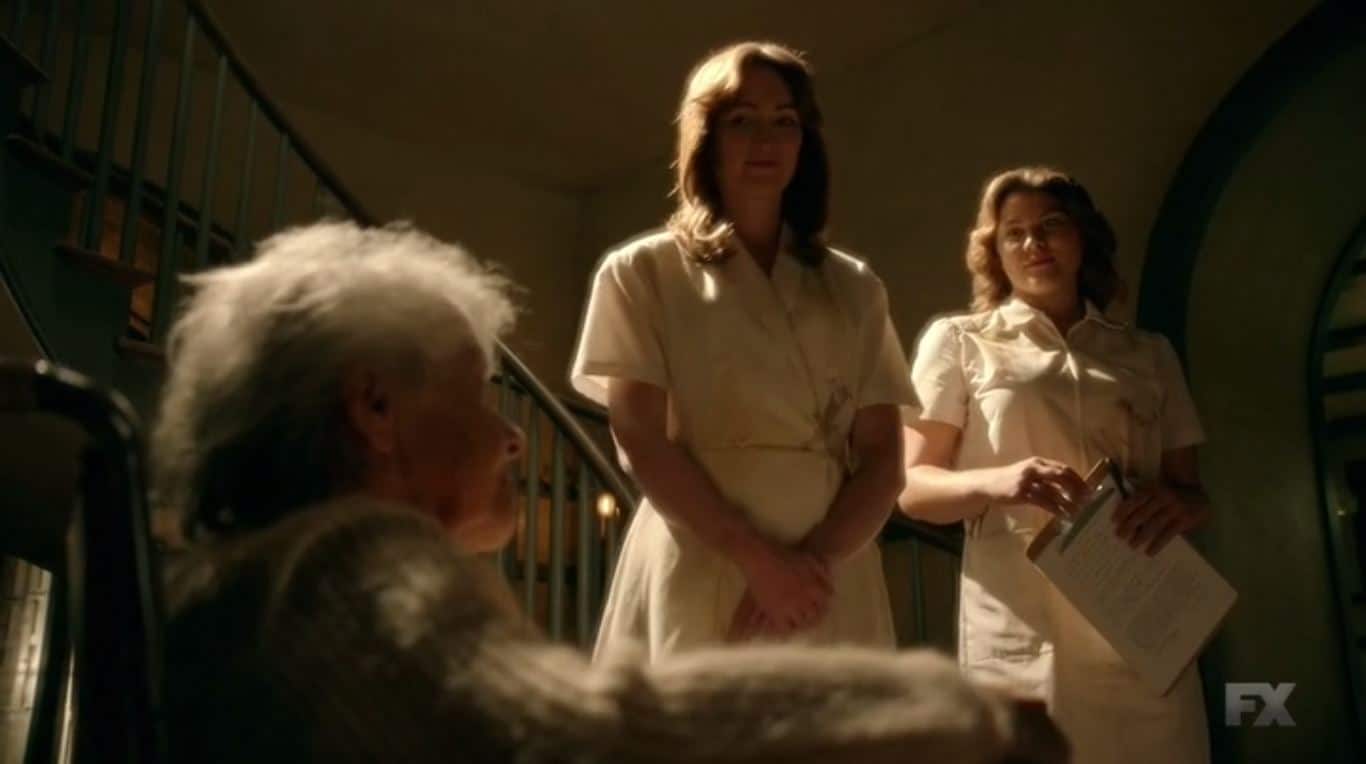 See below for the exact times and descriptions of the 40 jump scares in American Horror Story: Roanoke, which has a jump scare rating of 3.5.
Jump Scare Rating: Roanoke has a darker, less campy feel than previous seasons of American Horror Story. Jump scares are present with an average of around 4 scares per episode.


Synopsis: Documentary style retelling of a married couples' paranormal experiences after moving to a house on Roanoke Island in North Carolina
Contributor: Anthony Wilson contributed all the information on this page (Sign up now to become a contributor too! Learn more)
Jump Scares: 40 (5 major, 35 minor)
Episodes: 10
WARNING: The jump scare descriptions listed below may contain minor spoilers

Jump Scare Times
—Episode 1—
00:09:00 – A garbage can is hurled towards Matt.
00:13:57 – The wind causes a door to slam into the side of the house, startling Shelby.
00:16:42 – A hand pushes Shelby under the water while she lies in the hot tub.
00:22:39 – A loud gunshot may startle some viewers.
00:26:19 – Lee begins to talk during a tense scene which causes Shelby to jump in fright.
00:37:29 – While driving, Shelby looks up and a woman is suddenly standing in the middle of the road.
—Episode 2—
00:10:55 – A pig squeals and runs past Matt.
00:22:37 – Lee sees a pig-like creature in the mirror.
00:30:34 – The video footage that Shelby and Matt are watching shakes suddenly.
00:31:06 – A female figure appears in the mirror beside Dr. Cunningham.
00:37:24 – Matt runs out of some bushes startling Shelby.
—Episode 3—
00:19:16 – The Butcher suddenly cuts the candle on the table in half.
00:20:49 – The windows in the room suddenly break one by one.
—Episode 4—
00:02:33 – Shelby opens the shower curtain and is attacked by the pig-like creature (the creature appears again at 2:41 and 3:05).
00:06:56 – There is a loud bang from upstairs (followed by several more over the next 20 seconds).
00:07:54 – The pig creature appears suddenly in front of a woman.
00:09:38 – The Butcher suddenly appears and knocks a jug out of a woman's hand.
00:14:59 – Dr. Cunningham appears behind Shelby.
00:28:13 – Flora runs in front of a car causing the driver to brake suddenly.
—Episode 5—
00:09:03 – There is the sound of a pig squealing and a sheet is placed over Edward.
00:13:34 – A ghost drops down from the roof and grabs Flora.
00:14:54 – A door breaks.
00:18:29 – Matt, Shelby, and Flora are suddenly ambushed from behind.
00:35:53 – During a dream, Shelby opens the bathroom door and is attacked by The Butcher.
—Episode 6—
00:07:27 – Water explodes out of the sink.
00:07:46 – Cupboards suddenly slide across the kitchen floor, several seconds later fire comes out of the furnace behind Sidney.
00:20:44 – The pig man leaps up from the back of the car and grabs Diana.
00:25:17 – Agnes breaks a window.
00:37:56 – The nurses appear as Rory closes a closet door.
—Episode 7—
00:02:24 – Agnes stabs Sidney.
00:26:22 – Matt is grabbed and attacked by the witch.
—Episode 8—
00:13:03 – The pig man attacks Dominic.
00:13:17 – The Chens attack Shelby.
00:34:59 – Dominic turns around and sees the pig man standing behind him.
00:38:45 – Lee and Audrey open the front door and see the pig man.
—Episode 9—
00:16:27 – A pig walking across the screen is suddenly attacked by a fast moving assailant.
—Episode 10—
00:24:43 – Lee steps out in front of the spirit chasers.
00:26:01 – There is a loud bang from behind Lee.
00:27:26 – An open door slams as one of the spirit chasers approaches it.
00:28:12 – One of the Chens drops down from the ceiling and grabs a spirit chaser.
(Major jump scares in bold)
Report inaccurate data: Contact us with the URL of this page and a description of what data is inaccurate. We'll work to get it fixed!