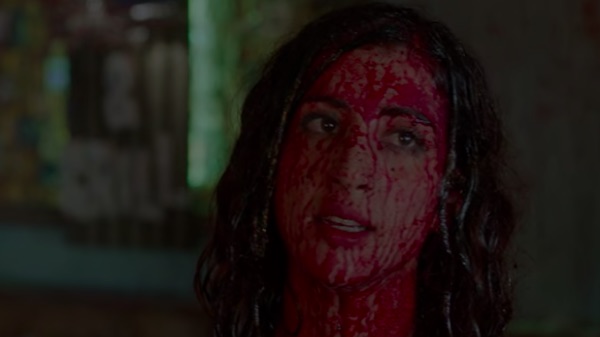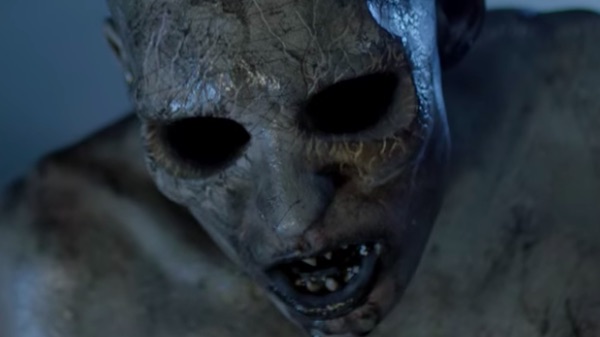 See below for the exact times and descriptions of the 33 jump scares in Ash vs Evil Dead, which has a jump scare rating of 4.0.
Jump Scare Rating: Multiple jump scares, however only a few actually effective ones. Very predictable and the comedic tone takes away most of the impact. Only sort of scary episode is #6.


Synopsis: Ash, Pablo, Kelly and Ruby continue to fight the deadites and other demons released from the Necronomicon 30 years after the original movie.
Contributor: Callan Griffin contributed all the information on this page (Sign up now to become a contributor too! Learn more)
Jump Scares: 33 (2 major, 31 minor)
Episodes: 10
WARNING: The jump scare descriptions listed below may contain minor spoilers

Jump Scare Times
—Episode 1—
00:10:34 – While sitting in the car, a man disappears and then bangs on the window with a rock.
00:11:17 – There is a sudden gunshot at the wall while Ash is looking at a picture.
00:26:55 – A demon child grabs Ruby suddenly.
—Episode 2—
00:05:57 – The mortician is stabbed in the ankle while investigating the open freezer.
00:14:49 – The bowels of the cadaver attack as Ash leans in.
—Episode 3—
00:22:10 – The blonde girl turns with white eyes and a sound effect as she leaves with Ash's father.
00:27:07 – Mid speech Ash's father is hit by a car with no warning.
—Episode 4—
00:17:00 – The flashlight comes across the face of one of the eyeless demon children plus a sound effect.
00:25:10 – The trunk explodes and a fire demon lunges at the camera.
—Episode 5—
00:00:34 – The mechanical bull comes to life briefly.
00:11:56 – The shadow moves to reveal a woman officer.
00:21:23 – A de-skinned body jumps through the ceiling.
00:22:58 – The lights go out and then the skeleton man is behind Ash.
—Episode 6—
00:01:28 – Pablo sits up quickly.
00:05:34 – A rock is thrown through the window as Ash says "you're safe now, I promise".
00:14:00 – Sheryl opens her eyes and they are white, accompanied by a sound effect.
00:16:55 – Sheryl says "warmer" and then Chet breaks through a door at the end of the hallway.
00:19:38 – Ash sees his reflection then a picture frame falls down.
00:20:13 – Arms break through the wall and grab Ash.
00:21:43 – Sheryl pops up beside Chet.
00:22:40 – Sheryl opens her eyes with a sound effect.
—Episode 8—
00:02:42 – Kelly turns around and Emery steps out with a sound effect.
00:03:38 – Lacey suddenly turns into a deadite.
00:10:08 – A face pops out at the window.
00:12:42 – A patient runs past the room screaming.
00:13:30 – The patient runs around the corner screaming.
—Episode 9—
00:20:32 – A deadite pops up behind Ash.
—Episode 10—
00:02:10 – The deadite comes out of the cellar to grab Ash.
00:04:15 – Ash turns and the woman is now a deadite.
00:08:22 – Pablo pulls the car mirror down and sees the masked version of himself.
00:13:57 – There is a quick cut to the demon children on the ceiling.
00:19:58 – The deadite Linda appears suddenly in front of Ash for a quick second.
00:20:24 – The demon child disappears and then reappears in front of Ruby.
(Major jump scares in bold)
Report inaccurate data: Contact us with the URL of this page and a description of what data is inaccurate. We'll work to get it fixed!