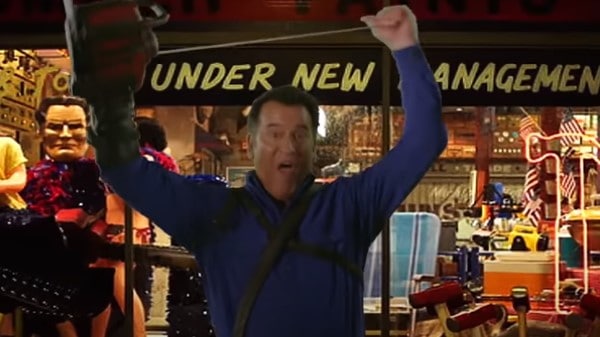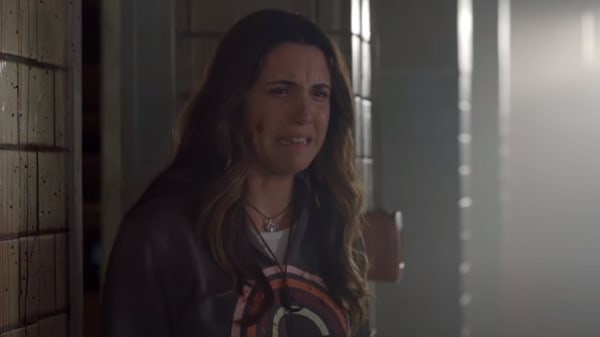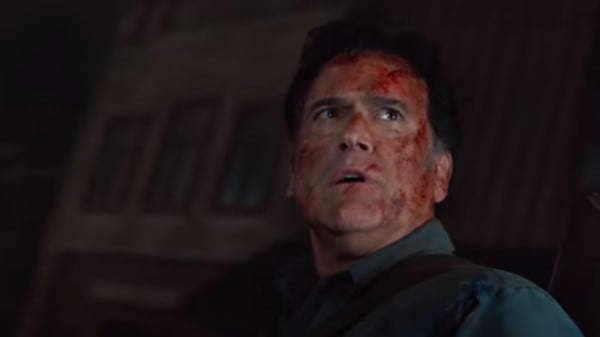 See below for the exact times and descriptions of the 19 jump scares in Ash vs Evil Dead, which has a jump scare rating of 3.5.
Jump Scare Rating: Lots of highly telegraphed jump scares as usual, however this season is even sillier and has very little for actual horror.


Synopsis: Ash Williams must once again team up to stop evil from coming into this world. This time with the unwilling help of a new family member.
Contributor: Callan Griffin contributed all the information on this page (Sign up now to become a contributor too! Learn more)
Jump Scares: 19 (19 minor)
Episodes: 10
WARNING: The jump scare descriptions listed below may contain minor spoilers

Jump Scare Times
—Episode 1—
00:08:41 – The mascot is suddenly much closer.
00:09:34 – A now bloodied mascot appears again.
—Episode 2—
00:01:14 – The car suddenly explodes with blood.
00:02:30 – The baby is now a demon.
00:13:35 – The mask and sheets jump off the bed at Pablo.
00:21:31 – The nurse is now a deadite.
—Episode 3—
00:03:18 – Hands suddenly grab Ash's face.
00:03:39 – The deadite pops up at the foot of the casket.
00:16:19 – A hand pops out of the grave.
—Episode 4—
00:10:19 – A deadite Pablo slams on the window.
00:12:00 – Deadite Pablo hits the sky roof.
00:23:47 – A sound effect occurs when Ash sees a woman.
—Episode 5—
00:05:12 – Pablo grabs Brandy through the ceiling.
—Episode 7—
00:14:22 – Evil Ash turns into a demon.
—Episode 8—
00:08:18 – Kelly pops up from around the corner.
00:16:10 – The table saw starts.
—Episode 10—
00:12:04 – The phone bites Brandy.
00:15:00 – Ash is grabbed by a deadite.
00:18:29 – A deadite appears at the window.
Report inaccurate data: Contact us with the URL of this page and a description of what data is inaccurate. We'll work to get it fixed!