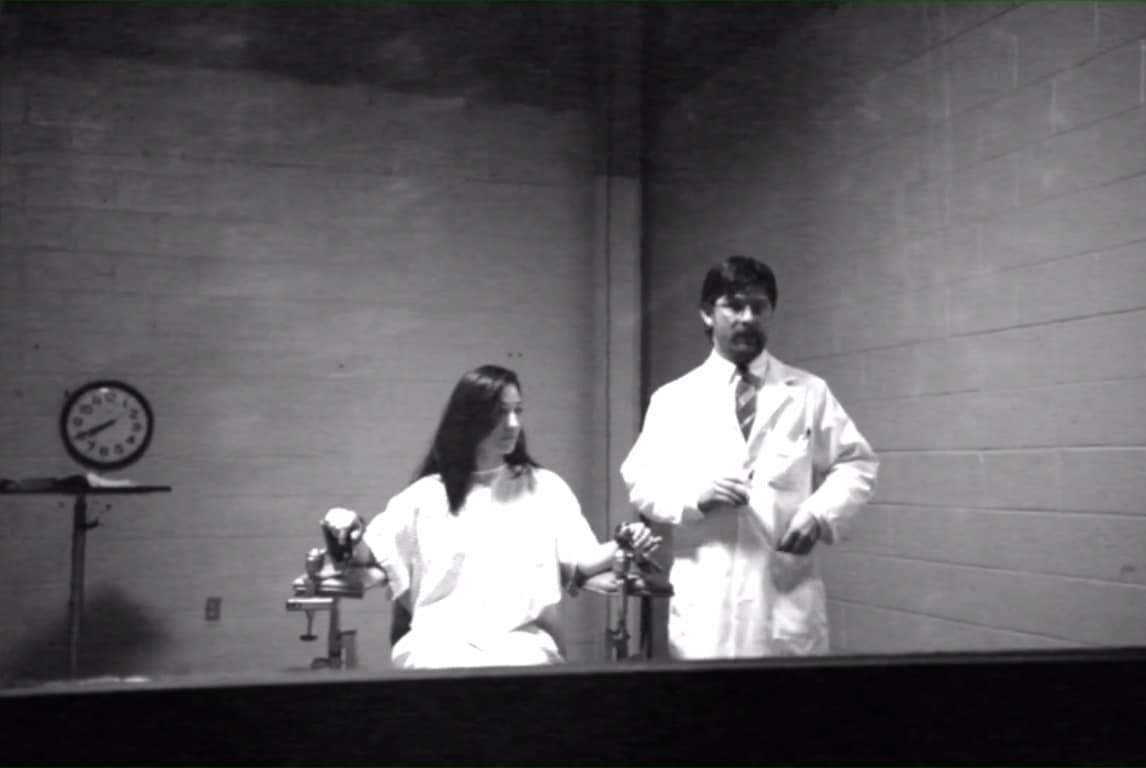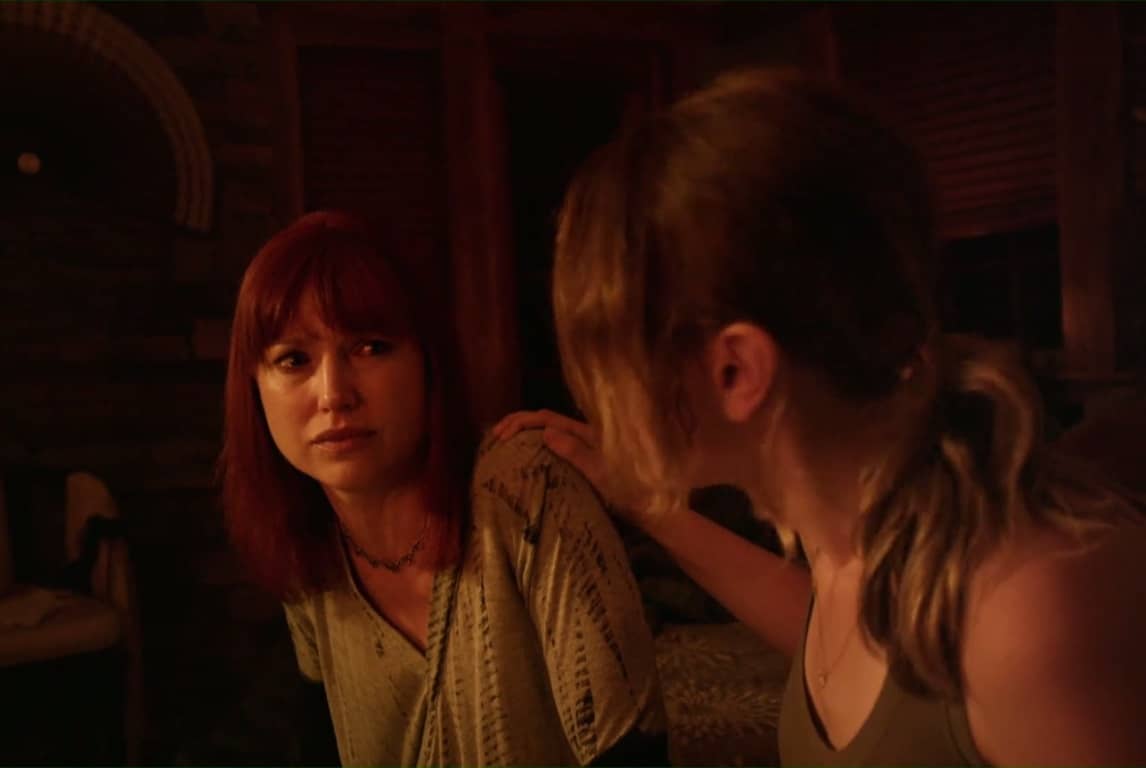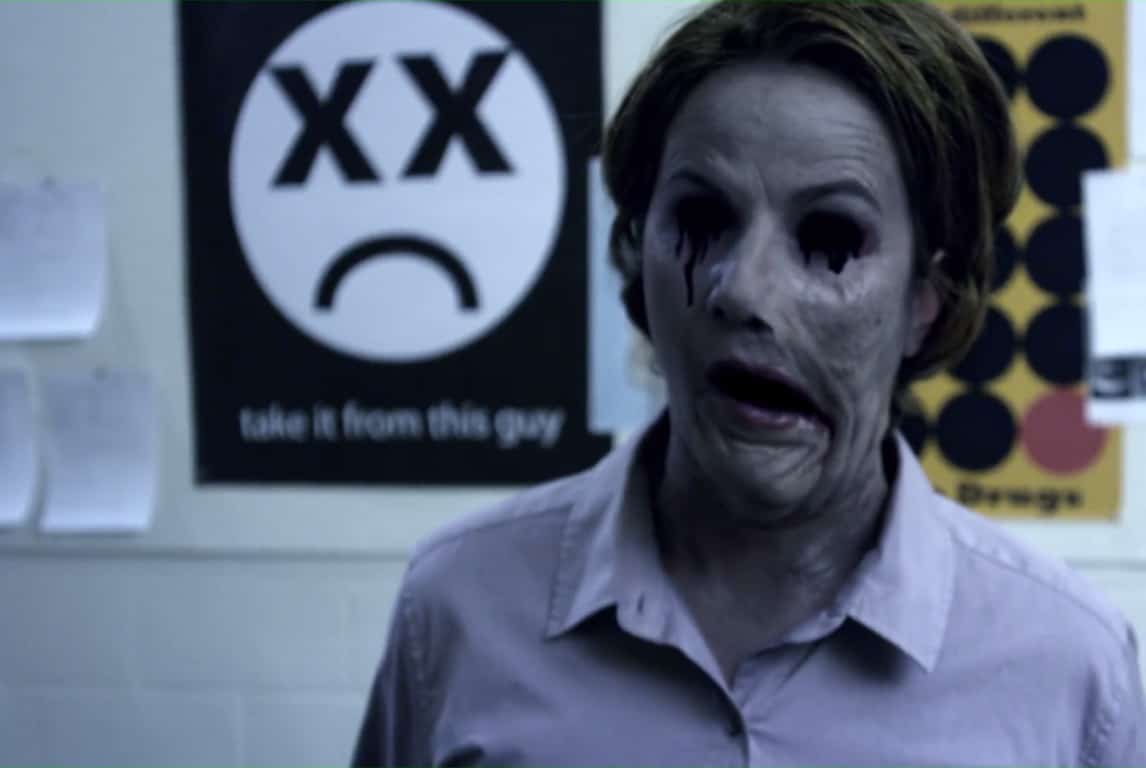 Synopsis: Journalist Anne Roland sets out to find her friend James, who went missing after taking a potent psychedelic drug known as DMT-19.
Director: Blair Erickson
Runtime: 87 minutes
MPAA Rating: R
IMDb: 5.5/10  Rotten Tomatoes: 75%
Netflix (US): No
Tags: Extraterrestrial, High Jump Scare, Low Budget, Mystery
Jump Scares:  22 (7 major, 15 minor)
Jump Scare Rating: Despite the low budget, director Blair Erickson manages to produce a tense and unsettling film with several high impact jump scares. Banshee Chapter is not recommended for those who scare easily.


WARNING: The jump scare descriptions listed below may contain minor spoilers
Show Descriptions
Jump Scare Times
8:08 – A shadowy figure passes the window behind James and the camera footage cuts out.
8:37 – An image of James with a disfigured face briefly flashes across the camera footage. [Video]
13:51 – A loud bang in an otherwise quiet scene may startle some people.
21:07 – Anne shines the torch on a figure standing in the darkness.
27:18 – An invisible force appears to drag Patient 11 away.
27:37 – Patient 11 suddenly screams and pounds on the observation window. [Video]
41:58 – Anne sees a mysterious figure standing by the window.
43:40 – There is a loud bang followed by screaming.
43:50 – Anne shines the torch on Callie who now has black eyes and is vomiting a red liquid. [Video]
47:22 – Patient 14 begins to scream and shake violently.
49:04 – Patient 14 suddenly appears in front of the scientist. [Video]
51:29 – Anne looks in the car mirror and sees Thomas's face has turned a red color.
1:02:10 – A hand grabs Anne around the ankle as she walks up the stairs. [Video]
1:02:33 – Thomas wakes up in the back seat and yells which startles Anne.
1:05:07 – A researcher gets an electric shock.
1:05:56 – The corpse on the examination table suddenly screams and grabs the researcher around the neck.
1:11:31 – Anne looks into a hole built into the wall and a pale face with hollow eyes suddenly appears. [Video]
1:12:03 – Anne looks down a corridor and sees an alien figure coming towards her.
1:13:23 – Something begins to bang on the door.
1:14:00 – A hand with long fingers suddenly appears on the locker that Anne is hiding in.
1:14:31 – Anne turns around and sees a grotesque figure standing beside her. [Video]
1:21:26 – Anne turns around and sees her friends face has the same black eyes and deformed expression as previous victims.
(Major scares in bold)
Download a .srt file of the jump scares in Banshee Chapter [more info].