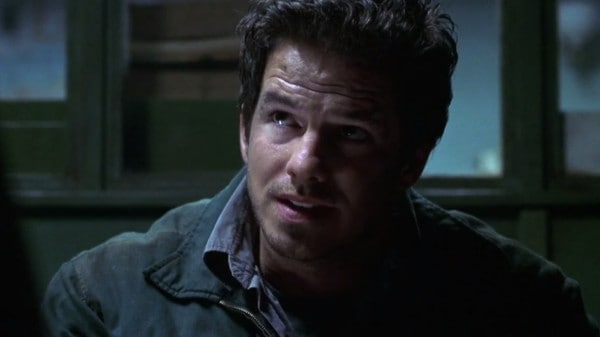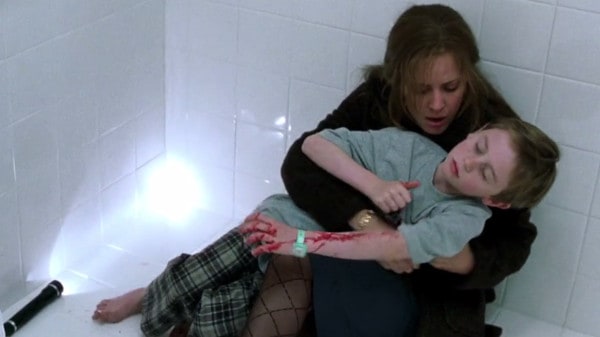 See below for the exact times and descriptions of the 19 jump scares in Darkness Falls, which has a jump scare rating of 4.0.
Jump Scare Rating: Jump scares are prominent throughout the movie, though a vast majority of them are predictable. Most of them involve the sudden appearence of the tooth fairy accompanied by sounds of her screaming.


Synopsis: The residents of Darkness Falls find themselves being attacked by a malevolent spirit taking the form of the tooth fairy that cannot step into the light.
Contributor: Frogge contributed all the information on this page (Sign up now to become a contributor too! Learn more)
Director: Jonathan Liebesman
Runtime: 86 minutes
WARNING: The jump scare descriptions listed below may contain minor spoilers

Jump Scare Times
00:04:52 – A girl jumps up and bangs on the window to scare Kyle.
00:09:52 – As Kyle pulls down his bed sheets, the tooth fairy jumps on top of him.
00:10:27 – Kyle grabs his mom's arm from the doorway.
00:11:17 – Kyle's mom sees the tooth fairy in the mirror.
00:12:21 – The door suddenly swings open.
00:28:11 – Raymond jumps at Kyle from behind.
00:29:25 – The tooth fairy jumps at Raymond.
00:31:07 – A corpse falls on top of Larry after he says "You're a grown man. You're completely safe.".
00:37:10 – A screeching cat suddenly jumps on the car's trunk.
00:44:13 – A shadow flies by the front window after Larry says "What if I don't?".
00:44:59 – The tooth fairy drops down on Larry from above.
00:53:09 – The tooth fairy appears in front of the police officer.
00:57:06 – The tooth fairy drops down behind Caitlin.
00:57:58 – As the group looks up the scene cuts away to the Tooth Fairy flying at them.
00:58:22 – As Michael and Caitlin force the elevator door open a hand reaches inside accompanied by a loud sound effect.
01:03:07 – After the doctor says "We're safe in the car," the window shatters and he is grabbed away.
01:07:58 – After Kyle says "Get back in the light," Matthew is grabbed from above.
01:11:40 – The tooth fairy drops down on Kyle as the camera pans up.
01:14:34 – The child is grabbed on the arm by her mother.
(Major jump scares in bold)
Watch with subtitles that warn you about jump scares! Download the .srt file of the jump scares in Darkness Falls. [More info]
Report inaccurate data: Contact us with the URL of this page and a description of what data is inaccurate. We'll work to get it fixed!