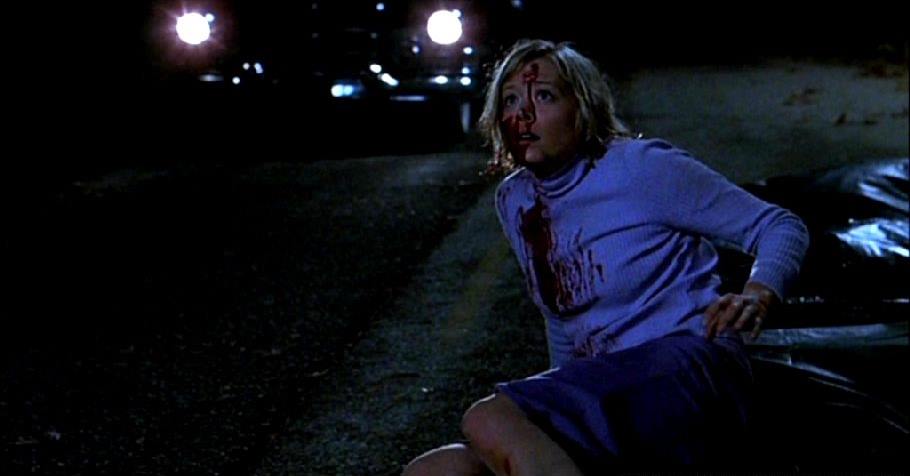 Synopsis: Frank and his family are on the way to his in-laws on Christmas Eve. After taking a short-cut, a sequence of mysterious events puts the lives of Frank and his family in grave danger.
Director: Jean-Baptiste Andrea, Fabrice Canepa
Runtime: 85 minutes
MPAA Rating: R
IMDb: 6.7/10  Rotten Tomatoes: 75%
Netflix (US): No
Tags: Christmas, Low Budget, Forest / Woods Setting, Mystery, Slasher
Jump Scares:  9 (1 major, 8 minor)
Jump Scare Rating: Dead End only has one significant scare which occurs at the 67 minute mark. There are also a handful of "half scares" mainly in the first half of the movie.

WARNING: The jump scare descriptions listed below may contain minor spoilers
Show Descriptions
Jump Scare Times
8:29 – A woman dressed in white appears beside Frank's car window.
12:30 – Laura pokes at a skull on the wall and it falls to the floor, startling her.
14:56 – Brad peeks at the baby and discovers that it is dead.
26:43 – Richard gets out of the car to investigate the baby's pram on the road, as he looks in he pretends to be pulled into the carriage and eaten.
33:37 – There is a loud noise and the car shakes as a tire blows out.
38:22 – There is a sudden bump as the car hits something.
1:06:48 – Frank lights a match and the woman in white is standing right behind him.
1:10:18 – The silhouette of someone appears at the window beside Marion.
1:12:41 – Marion turns around and runs into the woman in white.
(Major scares in bold)
Download a .srt file of the jump scares in Dead End [more info].