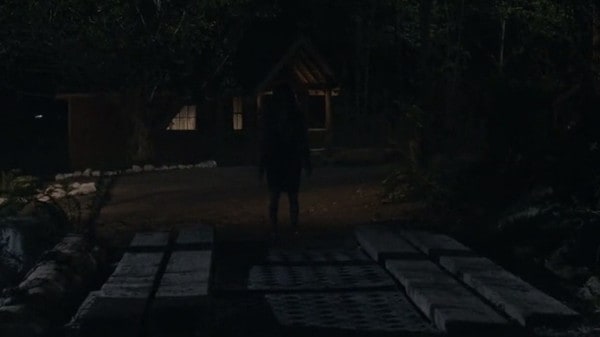 See below for the exact times and descriptions of the 34 jump scares in Dead of Summer, which has a jump scare rating of 3.0.
Jump Scare Rating: Most episodes contain little to no jump scares, with the exception of the first episode and the last three.


Synopsis: Camp Stillwater reopens after over a decade of being closed down, sending a group of counselors, each with their own dark pasts, down a nightmare of dark history and the occult plaguing area.
Contributor: Frogge contributed all the information on this page (Sign up now to become a contributor too! Learn more)
Jump Scares: 34 (3 major, 31 minor)
Episodes: 10
WARNING: The jump scare descriptions listed below may contain minor spoilers

Jump Scare Times
—Episode 1—
00:05:12 – Deborah is interrupted by a loud sound from a distance.
00:07:18 – Amy turns on a sink and the water bursts out, scaring her and causing her to drop the flask and break it.
00:09:02 – Jason grabs Amy from behind as a joke, causing her to scream.
00:19:22 – The camera pans around Amy, eventually showing one of the police officers, startling her.
00:20:07 – Some tree branches fall in front of Amy.
00:27:16 – Amy shines the flashlight on a mouse, scaring her.
00:32:16 – Amy turns around and there is a dark figure of a woman in front of her.
—Episode 2—
00:02:31 – As the bus passes by the man playing the piano from the intro appears in the background.
00:26:16 – As Amy and Alex lean in for a kiss Jason bursts in through the door.
00:27:20 – While searching for Anton, Alex and Jason bump into Deborah and Joel.
—Episode 3—
00:09:59 – After Cricket says "There was a bonfire" there is a sudden loud flashback to her nightmare.
00:12:06 – Cricket gets back up to see Blair standing right behind her.
00:19:21 – As Cricket peeks out of the hole a cultist jumps in front of it.
—Episode 4—
00:14:53 – Drew picks up a mask, followed by a cut to him, and when it cuts back to the mask it turns into a face, startling Drew and causing him to drop it.
—Episode 5—
00:24:13 – A flashlight turns on behind Drew and Jessie. (The accompanying jump scare sound is more startling than the scene itself.)
00:39:41 – Cricket turns around to see a cultist standing right in front of her.
—Episode 6—
00:05:41 – While entering a room, Deborah is suddenly grabbed from behind.
—Episode 8—
00:06:29 – Jessie is grabbed on the shoulder.
00:18:47 – As Jessie opens a morgue the body rolls out, frigtening her.
00:19:56 – Jessie turns around to see Damon standing right behind her.
00:23:44 – Jessie is once again grabbed on the shoulder.
00:35:52 – A car crashes into Jessie and her mom's car. (There's about a second of warning beforehand.)
—Episode 9—
00:08:48 – Blood suddenly begins to drip down the window.
00:17:38 – As the bus enters the fog, it suddenly hits something large.
00:18:44 – The bus driver's hand hits the bus window.
00:19:33 – Something hits the bus, causing it to shake.
00:21:38 – Amy lunges at Garrett, biting his ear.
00:26:54 – A hand grabs Deborah's shoulder.
00:32:45 – Jesse spurts out the water and bolts up.
—Episode 10—
00:10:52 – Blood drips onto Alex's face from above, and the camera scrolls up to reveal a corpse on top of the ceiling beams, followed by a loud cut to a close-up of the face.
00:10:58 – Jessie moves backward in fear, hitting a curtain, causing it to drop and reveal another corpse hanging on the wall.
00:11:08 – Amy jumps into the cabin through the window, breaking the glass.
00:18:36 – The water in the well suddenly splashes upwards.
00:27:05 – Jessie is grabbed by Garrett.
(Major jump scares in bold)
Report inaccurate data: Contact us with the URL of this page and a description of what data is inaccurate. We'll work to get it fixed!