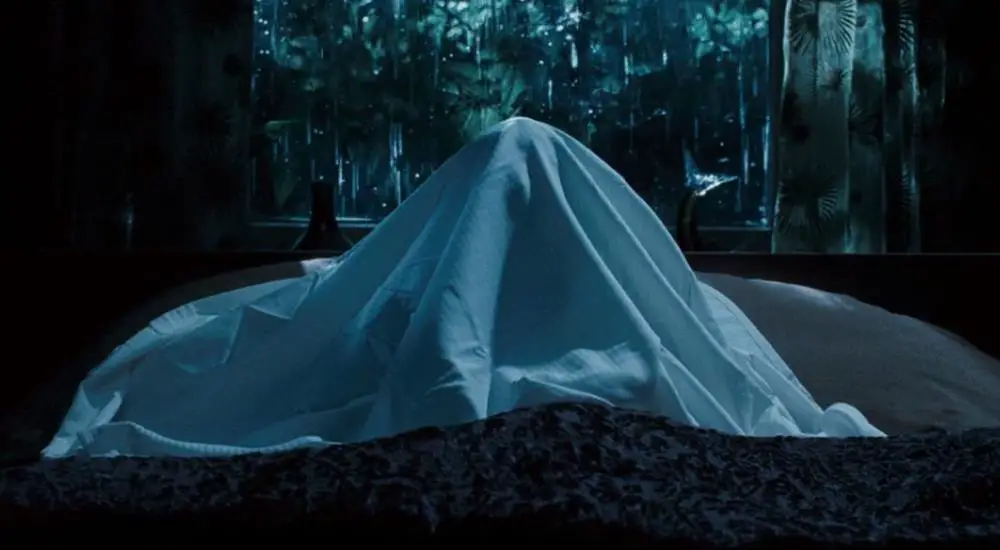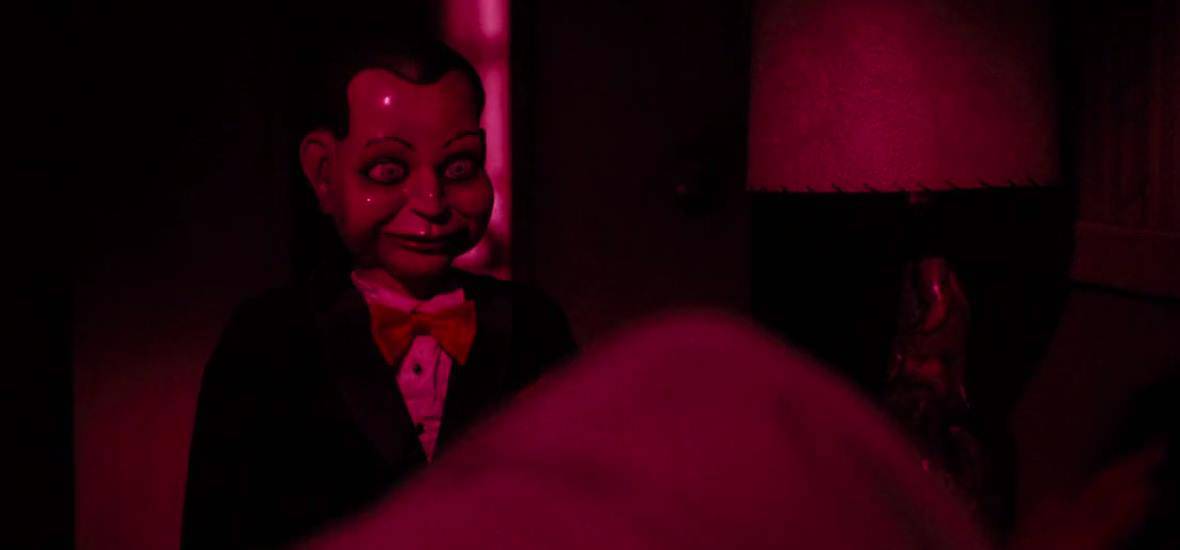 Synopsis: After his wife, Ella, is murdered shortly after the appearance of a strange doll in the mail, Jamie returns to his home-town of Raven's Fair to uncover the origins of the doll.
Director: James Wan
Runtime: 92 minutes
MPAA Rating: Unrated
IMDb: 6.2/10  Rotten Tomatoes: 21%
Netflix (US): No
Tags: Haunted House / Building, High Jump Scare
Jump Scares:  15 (4 major, 11 minor)
Jump Scare Rating: Although the second half has more jump scenes, the first half probably has the more effective scares overall.


WARNING: The jump scare descriptions listed below may contain minor spoilers
Show Descriptions
Jump Scare Times
9:18 – The sheet on top of the doll suddenly lifts off and wraps itself around Lisa. [Video]
25:49 – Jamie sees the doll standing beside his bed. [Video]
26:15 – Jamie sees an old lady behind the curtain, the camera zooms in on her face.
28:46 – As the camera flashes, an image if Lisa's dead face flashes up on the screen briefly.
34:41 – Jamie sees the doll in the drivers side window of the car. [Video]
35:22 – Jamie comes out of the bathroom and sees the doll.
46:29 – Young Henry sees Mary's dead body lying beside him.
53:49 – The reflection of a dead lady can be seen briefly in the mirror.
57:56 – Henry turns around and sees Mary Shaw behind him. [Video]
1:06:50 – Detective Lipton begins speaking behind Jamie.
1:11:40 – The dead boy's head jerks back, starling Detective Lipton.
1:18:17 – Detective Liptons dead body comes out from behind the curtain.
1:18:46 – Jamie sees Mary Shaw's face as he tries to climb back on to the bridge.
1:24:28 – Mary Shaw comes through the window.
1:26:30 – Ella appears behind Jamie.
(Major scares in bold)
Download a .srt file of the jump scares in Dead Silence [more info].