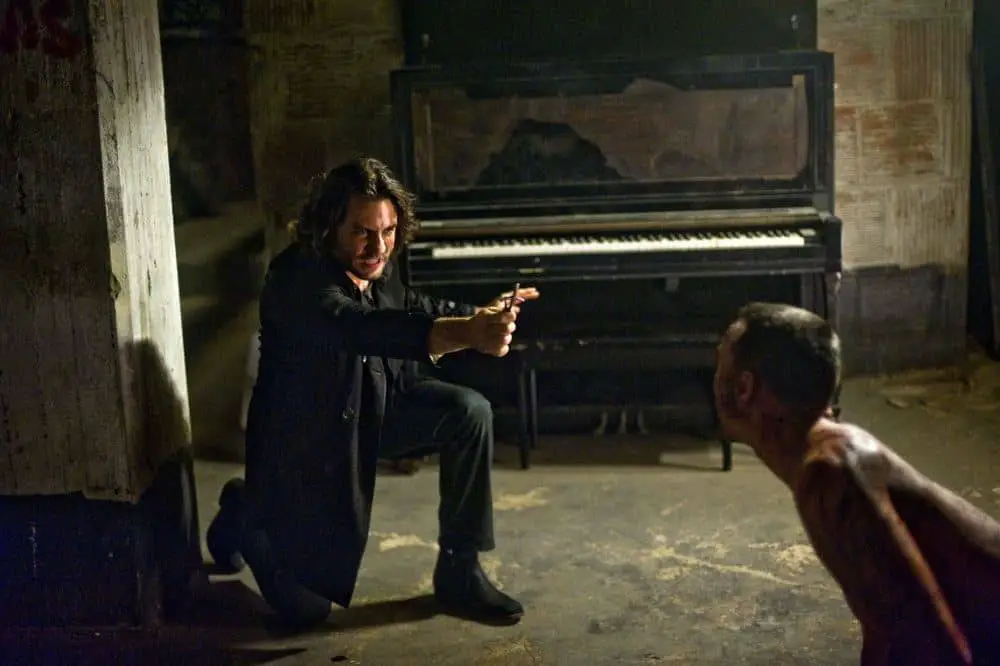 Synopsis: New York police officer Ralph Sarchie investigates a series of disturbing crimes that may be the result of demonic possession.
Director: Scott Derrickson
Runtime: 118 minutes
MPAA Rating: R
IMDb: 6.2/10  Rotten Tomatoes: 28%
Netflix (US): No
Tags: High Jump Scare, Religion & The Occult, Possession
Jump Scares: 16 (4 Major, 12 Minor)
Jump Scare Rating: Numerous jump scares throughout, some of which are quite scary, not recommended for those who dislike jump scares.


WARNING: The jump scare descriptions listed below may contain minor spoilers
Show Descriptions
Jump Scare Times
13:31 – A bear roars suddenly.
14:18 – A woman's face flashes in front of Sarchie's view from night vision goggles. [Video]
24:57 – A cat meows unexpectedly.
27:02 – A mousetrap snaps shut.
28:42 – A dead body falls out of the wall behind Sarchie. [Video]
33:20 – Dog begins to bark as a police team enter a bedroom.
42:47 – A bloodied head pops up on security camera footage. [Video]
51:25 – A man jumps out and grabs Sarchie from behind.
1:07:00 – Sarchie sees bloodied head man climbing over his daughters bed in the mirror. [Video]
1:17:35 – A hooded man appears in elevator.
1:19:25 – The hooded man is shown above Sarchie crawling along pipes.
1:20:44 – A man jumps out of a chest and puts Sarchie in a headlock.
1:31:12 – A clown pops out of a jack in the box.
1:31:44 – A dead body lands on Sarchie's windscreen.
1:36:04 – Santino hisses at Sarchie.
1:44:56 – Santino's head snaps back during the exorcism.
(Major scares in bold)
Download a .srt file of the jump scares in Deliver Us From Evil [more info].