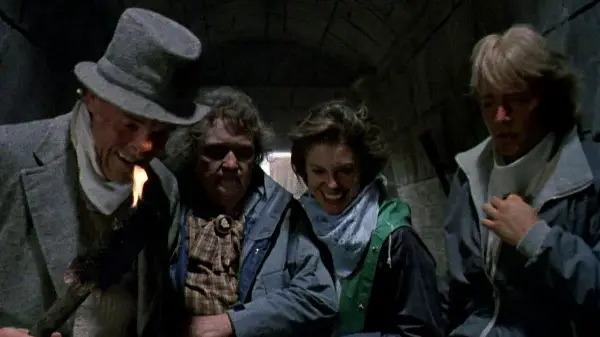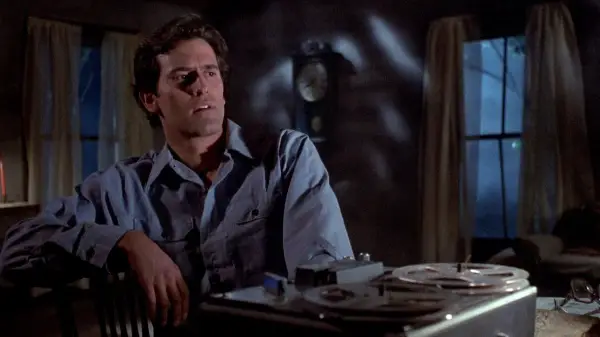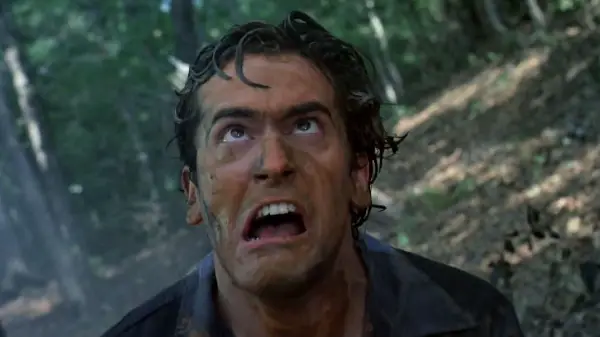 See below for the exact times and descriptions of the 27 jump scares in Evil Dead 2, which has a jump scare rating of 4.0.
Jump Scare Rating: Constant jump scares throughout however the film is so campy and over the top that many of the scares are more comedic than scary.


Synopsis: After surviving the events of the first film, Ash must battle the forces of evil once more.
Contributor: Anthony Wilson contributed all the information on this page (Sign up now to become a contributor too! Learn more)
Director: Sam Raimi
Runtime: 84 minutes
WARNING: The jump scare descriptions listed below may contain minor spoilers

Jump Scare Times
00:05:52 – A possessed Linda pops up in front of Ash.
00:07:42 – Ash lifts his head out of a puddle and screams, showing that he is possessed himself.
00:17:33 – A zombified hand comes out of the ground.
00:18:32 – Zombie Linda appears at the window as Ash looks out.
00:19:19 – Linda's head falls into Ash's lap.
00:20:47 – Headless Linda bursts into the shed holding a chainsaw.
00:24:39 – Ash sees himself in the mirror the mirror Ash comes out of the mirror and grabs him.
00:28:20 – The scene abruptly cuts to Ash's possessed hand.
00:29:58 – Ash stabs his own hand with a knife.
00:36:50 – Jake jumps at Ash.
00:40:10 – Possessed Henrietta bursts through the cellar floor.
00:41:15 – Henrietta's horribly contorted face pokes through the cellar door.
00:44:20 – Ed is possessed and screams from behind Annie.
00:47:12 – There is a loud roaring noise.
00:50:00 – Jake and Bobby Joe break through a door.
00:52:39 – A possessed tree roars at Bobby Joe.
00:58:34 – Ash becomes possessed once more and lets out a roar.
00:58:51 – Possessed Ash appears at the cabin door.
01:00:48 – Possessed Ash appears at a window.
01:03:02 – Henrietta pops out of the cellar door and drags Jake into the cellar.
01:03:43 – Annie walks into possessed Ash.
01:05:09 – Ash ducks out of the way as Annie swings an axe at him.
01:09:50 – The skeleton of Jake appears beside Ash.
01:10:48 – Henrietta grabs Ash through the cellar stairs.
01:11:22 – Henrietta rises up out of a hole in the floor.
01:14:18 – There is a loud boom and a tree branch falls on the cabin.
01:15:37 – The physical incarnation of evil appears in the cabin doorway.
(Major jump scares in bold)
Watch with subtitles that warn you about jump scares! Download the .srt file of the jump scares in Evil Dead 2. [More info]
Report inaccurate data: Contact us with the URL of this page and a description of what data is inaccurate. We'll work to get it fixed!