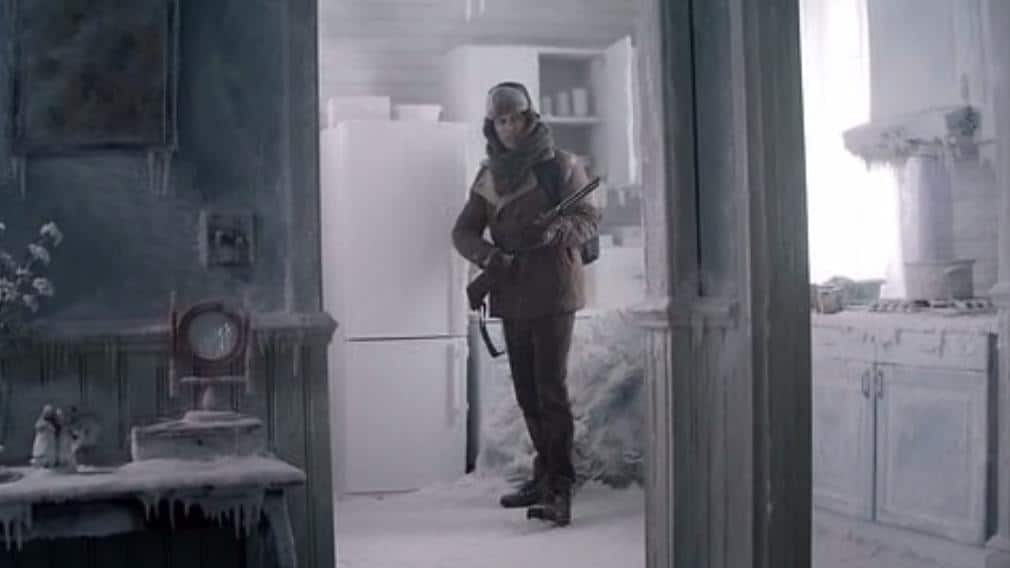 Synopsis: Two men and a young girl try to survive in the snow covered town of Harmony after an infection has turned most of the world's population into zombie-like creatures.
Director: Miguel Ángel Vivas
Runtime: 113 minutes
MPAA Rating: R
IMDb: 5.8/10  Rotten Tomatoes: 25%
Netflix (US): No
Jump Scares:  12 (2 major, 10 minor)
Jump Scare Rating: Part horror part drama movie, most of the action and jump scares in Extinction occur at the beginning and end of the film.


WARNING: The jump scare descriptions listed below may contain minor spoilers
Show Descriptions
Jump Scare Times
2:06 – Loud gunfire can be heard coming from the bus in front.
4:07 – The soldier outside the bus is attacked by a zombie.
5:42 – The apparently dead soldier suddenly opens his eyes and attacks.
8:42 – A zombie breaks through the car window and attacks Emma.
35:54 – A creature leaps out at Patrick.
38:06 – While Patrick is lying in the snow, a creature stands over him and screeches.
57:32 – The chained up creature tries to attack Jack.
1:31:37 – Lu turns around and comes face to face with one of the creatures.
1:32:01 – A creature pops up at one of the boarded up windows.
1:33:43 – The creature suddenly snarls at Lu who is hiding behind some stairs.
1:33:59 – The creature jumps onto the table above Lu.
1:39:21 – The creatures start banging on the walls of the house.
(Major scares in bold)
Download a .srt file of the jump scares in Extinction [more info].