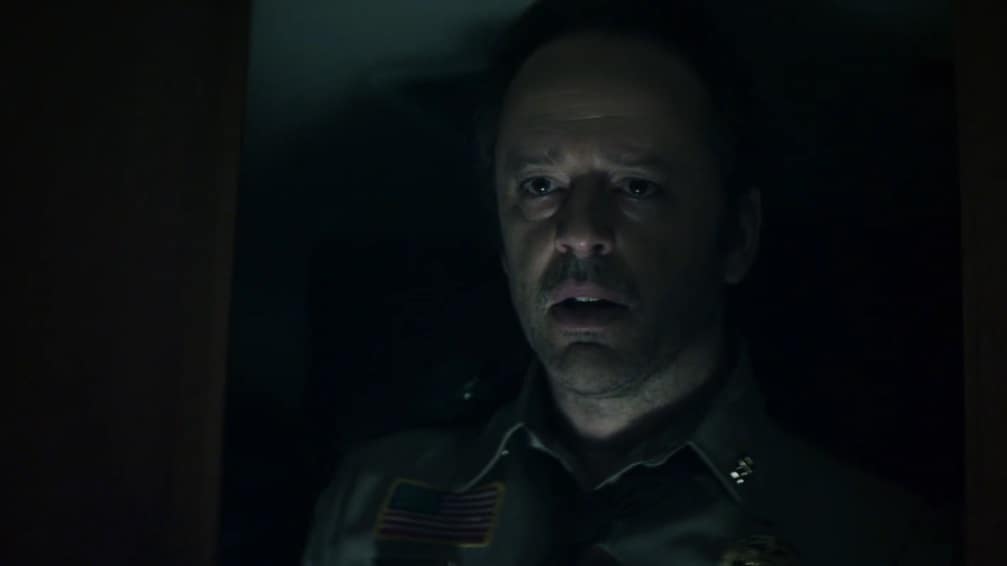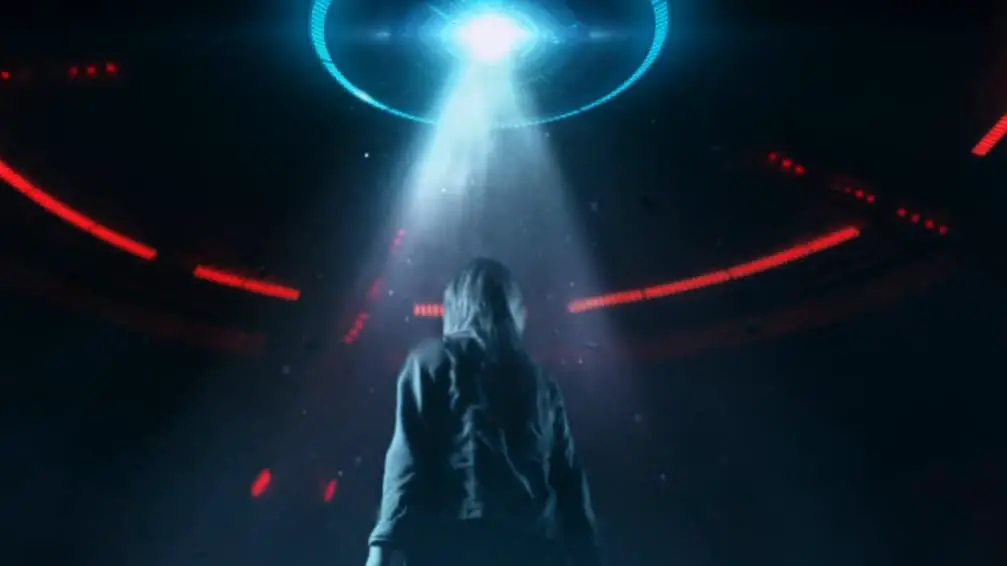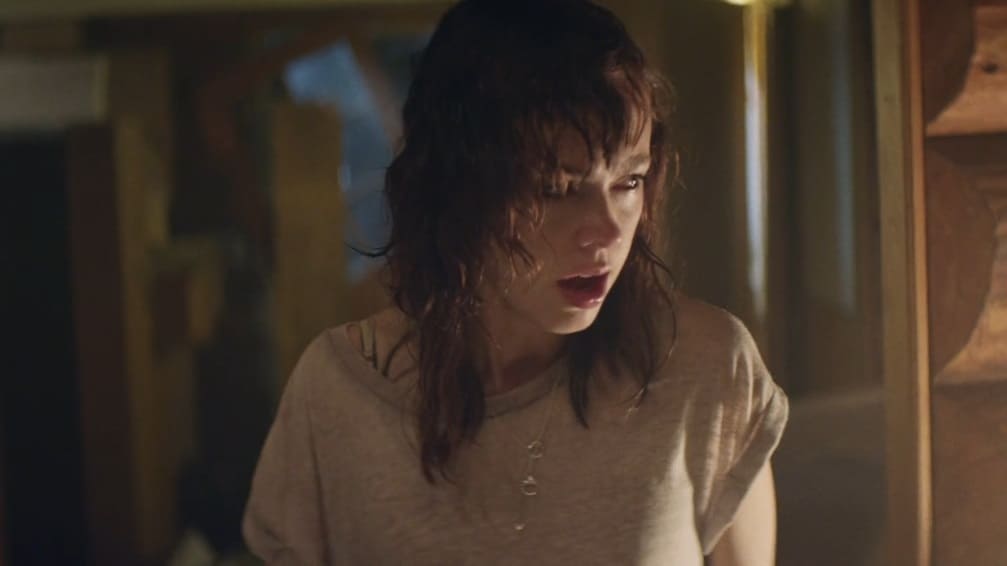 Synopsis: A group of friends on vacation deep in the woods find themselves pursued by extraterrestrial visitors.
Director: Colin Minihan
Runtime: 101 minutes
MPAA Rating: Unrated
IMDb: 5.0/10  Rotten Tomatoes: 31%
Netflix (US): No
Tags: Extraterrestrial, High Jump Scare, Sci-Fi
Jump Scares:  30 (4 major, 26 minor)
Jump Scare Rating: The aliens turn up approximately half an hour into the movie and from then on Extraterrestrial is loaded with jump scares.

WARNING: The jump scare descriptions listed below may contain minor spoilers
Show Descriptions
Jump Scare Times
0:49 – A distressed woman appears on screen.
2:03 – Bright lights flash accompanied by loud sound effects.
2:52 – The telephone booth crashes down behind the shop attendant.
17:04 – April walks backwards into a masked man holding an axe.
30:43 – The lights turn off suddenly.
31:35 – The fuse box sparks.
32:05 – Loud banging can be heard from upstairs.
34:54 – A flash of lightning illuminates an alien outside walking towards the house.
40:00 – Lex is suddenly lifted into the alien ship.
42:00 – On some camera footage, a girl is suddenly abducted into the alien ship.
42:47 – A woman bursts out of a closet.
44:58 – Travis grabs Seth and puts a knife to his neck.
49:16 – An alien silhouette appears behind Travis.
50:45 – Travis, who is hiding underneath a bed, sees some alien feet.
51:14 – An alien hand grabs Travis around the face.
53:27 – A bang can be heard from the other side of the door.
53:52 – April looks through the peep hole in the door and sees an alien eye.
57:45 – A loud noise startles the sheriff.
58:56 – An alien runs quickly past the sheriff.
1:02:14 – The sheriff turns the car lights on to reveal an alien standing in front of the car.
1:03:42 – April appears by the car window beside Seth.
1:06:14 – There is a loud noise and a red light illuminates the room.
1:06:32 – After a momentary silence there is a loud noise and flashing blue lights.
1:07:41 – The floor boards begin to break up.
1:10:44 – Seth is attacked by an alien.
1:14:30 – Kyle approaches a mirror, suddenly an alien hand bursts through and grabs him.
1:16:26 – Something sparks near April.
1:16:48 – The power suddenly comes back on.
1:24:01 – The probe device suddenly opens.
1:26:34 – The alien/human hybrid opens its eyes.
(Major scares in bold)
Download a .srt file of the jump scares in Extraterrestrial [more info].