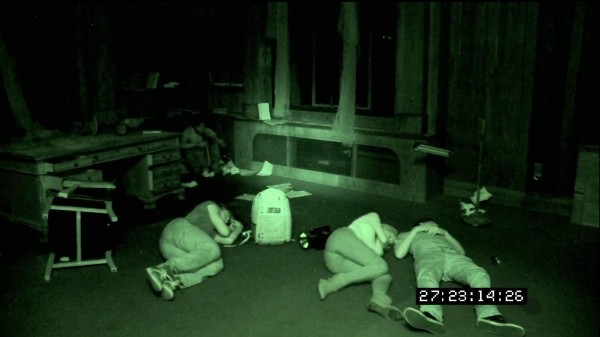 See below for the exact times and descriptions of the 21 jump scares in Grave Encounters 2, which has a jump scare rating of 4.0.
Jump Scare Rating: Many jump scares throuhout. Most early jump scares come from characters watching the first film.


Synopsis: A group of film student visit the psychiatric hospital used in the movie Grave Encounters to see if it's really hunted.
Contributor: Saggy Sloth contributed all the information on this page (Sign up now to become a contributor too! Learn more)
Director: John Poliquin
Runtime: 100 minutes
WARNING: The jump scare descriptions listed below may contain minor spoilers

Jump Scare Times
00:11:59 – A bloody man runs towards the camera. Footage from original film.
00:19:00 – A person appears in the mirror.
00:33:53 – A bloody man is on the ceiling. Footage from the original film.
00:39:47 – A man bloody man jumps out of the bathtub. Footage from original film.
00:44:01 – The spirit board arrow jump out of their hands.
00:44:17 – A loud bang.
00:44:27 – The furniture in the room gets flipped over.
00:48:53 – Jerry is pulled out the window.
00:51:57 – A loud noise is heard.
00:52:14 – A childs face distorts and screams.
00:54:05 – A door flies open.
00:55:37 – A loud noise is heard.
00:56:50 – The security guard wakes up.
00:58:21 – A man with a distorted face crashes through the window.
01:02:28 – A jet of steam busts from a pipe.
01:03:18 – A man runs at the thermal camera.
01:04:22 – A child with a distorted face runs towards the camera in the vent.
01:10:19 – Sean jumps.
01:11:35 – A loud bang is heard.
01:23:10 – A light suddenly switches on.
01:25:04 – A ghostly women jumps into view.
(Major jump scares in bold)
Watch with subtitles that warn you about jump scares! Download the .srt file of the jump scares in Grave Encounters 2. [More info]
Report inaccurate data: Contact us with the URL of this page and a description of what data is inaccurate. We'll work to get it fixed!