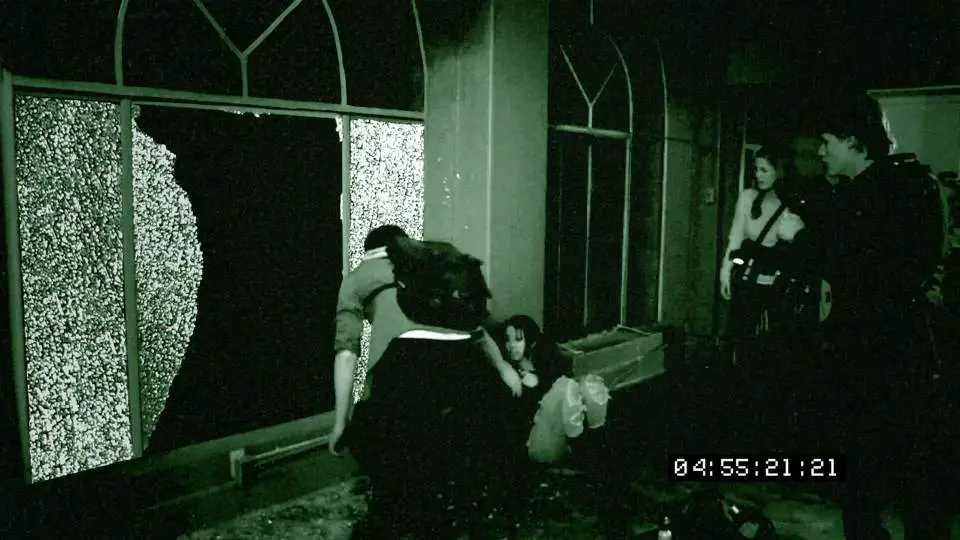 Synopsis: Members of a ghost hunting reality show lock themselves inside an abandoned mental hospital which they understand to be haunted.

Director: Colin Minihan, Stuart Ortiz
Runtime: 92 min
MPAA Rating: R
IMDb: 6.1/10  Rotten Tomatoes: 64%
Netflix (US): No
Jump Scares: 12 (4 major, 8 minor)
Jump Scare Rating: A moderately unsettling found footage style horror movie. Those who dislike jump scares should avoid as there are several major ones throughout the movie.


WARNING: The jump scare descriptions listed below may contain minor spoilers
Show Descriptions
Jump Scare Times
29:12 – The door slams shut.
31:24 – There is a sudden loud noise and the camera goes fuzzy.
33:26 – Sasha's hair gets lifted from behind.
44:19 – T.C. gets pushed down the stairs.
57:29 – A bed frame lifts off the ground.
1:01:13 – A girl runs through the hallway.
1:01:55 – The film crew approach a girl in the corner of a room when she spins around and screams. [Video]
1:07:27 – A hand breaks through the door behind Sasha and grabs her.
1:13:32 – Someone jumps out of a bath tub full of blood and drags in T.C. [Video]
1:16:49 – Lance finds a tounge in the corner of the room, looks up, and sees a ghost on the roof. [Video]
1:17:49 – A figure runs at Lance in the hallway.
1:29:39 – Lance spins around to see a group of doctors working on a patient. Suddenly one jumps up close to Lance and screams. [Video]
(Major scares in bold)
Download a .srt file of the jump scares in Grave Encounters [more info].