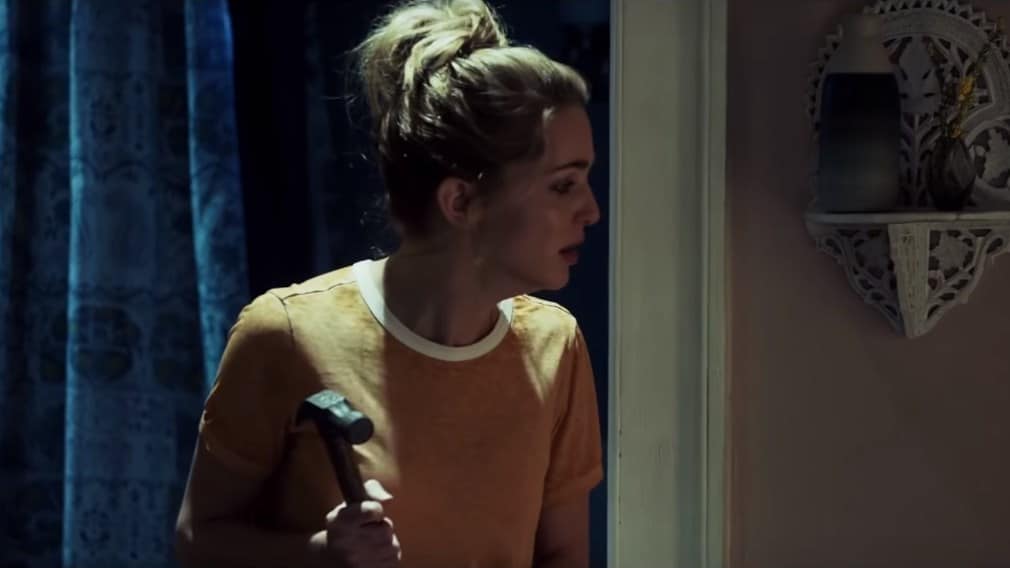 Synopsis: A college student finds herself reliving the same day over and over again until she can figure out how to prevent her death which occurs at the end of each loop.
Director: Christopher Landon
Runtime: 96 minutes
MPAA Rating: PG-13
IMDb: 6.7/10  Rotten Tomatoes: 69%
Netflix (US): No
Tags: Comedy, Romance, Slasher
Jump Scares:  8 (1 major, 7 minor)
Jump Scare Rating: The jump scares in Happy Death Day coincide with the sudden appearance of the mysterious masked person and are mainly in the first half of the movie.

WARNING: The jump scare descriptions listed below may contain minor spoilers
Show Descriptions
Jump Scare Times
13:51 – A hooded person wearing a mask drops down behind Tree.
24:50 – Tree turns around and the masked killer is standing in the doorway.
27:24 – The masked killer can now be seen in the mirror standing behind Tree.
37:10 – The television turns back on as Tree approaches the shower curtain.
37:25 – The masked killer appears from behind Tree.
47:01 – The lights in the hospital turn back on and Tree's professor (Gregory) is now standing beside Carter.
50:45 – Gregory opens a door, startling Tree as she tries to sneak down the hospital hallway, seconds later the masked killer appears behind Gregory.
55:35 – The police officer is suddenly hit by a car as he listens to his Walkie-talkie.
(Major scares in bold)
Download a .srt file of the jump scares in Happy Death Day [more info].