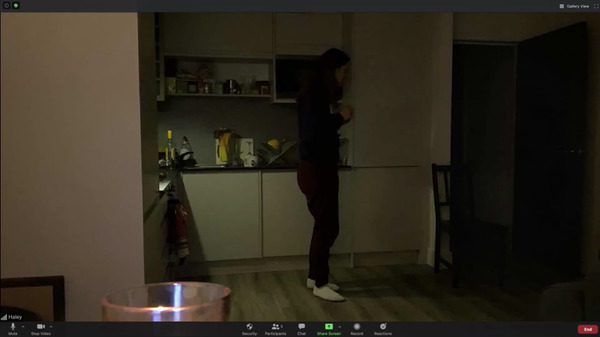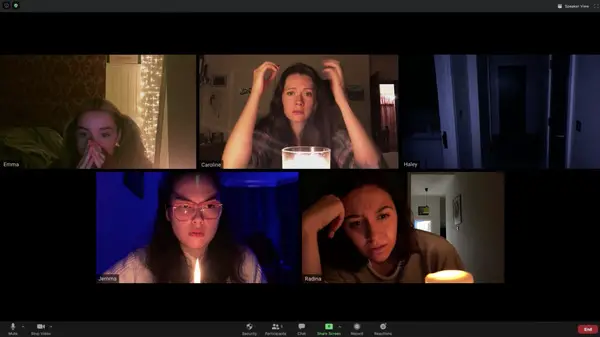 See below for the exact times and descriptions of the 23 jump scares in Host, which has a jump scare rating of 4.0.
Jump Scare Rating: While the entirety of the film takes place on a Zoom screen, Host is very tension-filled, which makes for very effective jump scares. Most of them taking place during the second half of the film.


Synopsis: As the quarantine from the COVID-19 pandemic continues, six friends participate in a medium with a séance via Zoom, but one of them does not take it seriously, which invites an evil spirit that invades their homes.
Contributor: Christian Perry contributed all the information on this page (Sign up now to become a contributor too! Learn more)
Director: Rob Savage
Runtime: 56 minutes
WARNING: The jump scare descriptions listed below may contain minor spoilers

Jump Scare Times
00:17:58 – A knock is heard at Seylan's door, which is revealed to just be a late delivery.
00:19:28 – Jemma suddenly screams loudly as she claims to have felt something touch her neck.
00:23:41 – Haley is suddenly dragged backwards in her chair.
00:26:21 – A loud thud is heard.
00:31:37 – Emma's drinking glass suddenly shatters.
00:34:38 – A warbling sound is heard as the lights in everyone's rooms begin to flicker.
00:38:44 – Caroline becomes visible through her virtual background as she appears to fall towards the webcam, knocking the laptop over.
00:39:01 – Emma's camera pans down and a floating face filter is seen.
00:40:08 – Emma's cabinet doors burst open.
00:41:41 – Alan's body falls to the floor behind Radina.
00:42:27 – Caroline once again becomes visible through her virtual background as she starts repeatedly slamming her head.
00:43:40 – Haley's chair gets pulled away.
00:45:44 – A mysterious face appears in Teddy's view.
00:46:02 – Another mysterious face appears in Teddy's view as loud screaming is heard.
00:46:51 – Thudding is heard in the distance.
00:47:31 – Teddy's flashlight explodes.
00:48:10 – A scream is heard as another explosion occurs, blowing Teddy backwards.
00:50:07 – Emma screams loudly after she throws a blanket and it lands in mid-air.
00:50:41 – A window shatters off-screen as Jemma breaks into Haley's house.
00:51:40 – Jemma's hand reaches for the camera.
00:51:59 – Haley's cabinets and drawers burst open.
00:53:10 – Hayley appears from under the desk as her chair knocks over.
00:54:38 – As Haley snaps a portrait, a mysterious and bloodied figure suddenly screams and lunges towards her and Jemma, but is then abruptly cut off due to the Zoom meeting reaching its time limit.
(Major jump scares in bold)
Watch with subtitles that warn you about jump scares! Download the .srt file of the jump scares in Host. [More info]
Report inaccurate data: Contact us with the URL of this page and a description of what data is inaccurate. We'll work to get it fixed!