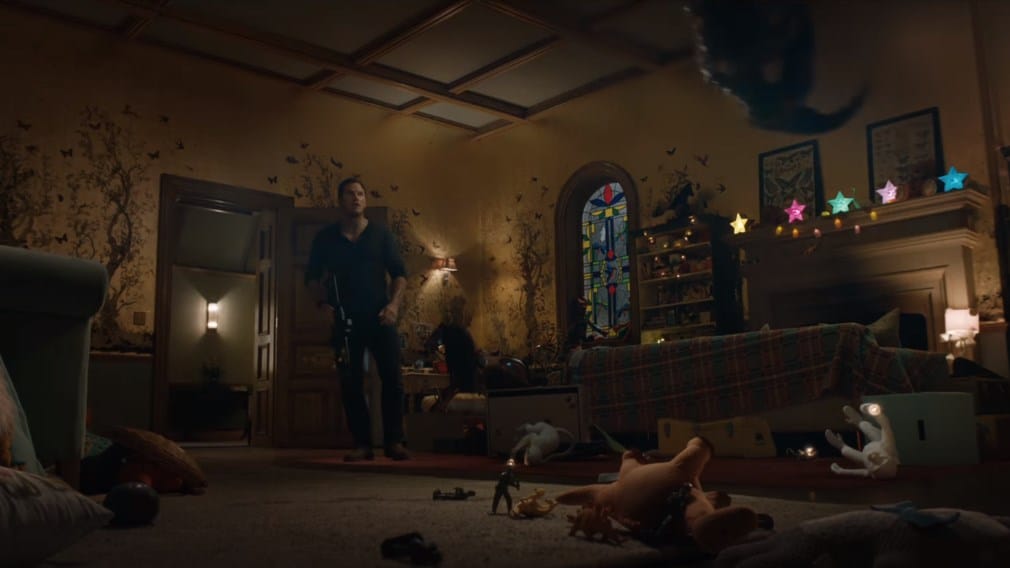 Synopsis: Owen and Claire return to Isla Nebula to rescue the remaining dinosaurs after a volcanic eruption threatens their safety.
Director: J.A. Bayona
Runtime: 128 minutes
MPAA Rating: PG-13
IMDb: 6.5/10  Rotten Tomatoes: 52%
Netflix (US): No
Tags: Book Adaptation, Sci-Fi
Jump Scares:  7 (2 major, 5 minor)
Jump Scare Rating: Similar to previous entries in the franchise, jump scares are not a big part of Jurassic Park: Fallen Kingdom although the final half hour does feature some light scares.


WARNING: The jump scare descriptions listed below may contain minor spoilers
Show Descriptions
Jump Scare Times
22:58 – Maisie jumps out at her nanny (as a joke).
32:51 – Some small raptors run out of the abandoned car as Owen approaches it, a few seconds later a larger raptor jumps on the car.
1:31:44 – The Indoraptor suddenly clamps on to Wheatley's arm.
1:34:16 – The Indoraptor suddenly tackles one of the armed guards as Eli talks to Claire and Owen.
1:37:38 – Accompanied by a sound effect, we see the dead guard suddenly pulled out of sight.
1:47:32 – The fighting Raptors break the window in front of Owen and Maisie as they scale the side of the house.
1:54:45 – A T-Rex suddenly ambushes Eli as he bends down to pick up the DNA sample.
(Major scares in bold)
Download a .srt file of the jump scares in Jurassic World: Fallen Kingdom [more info].