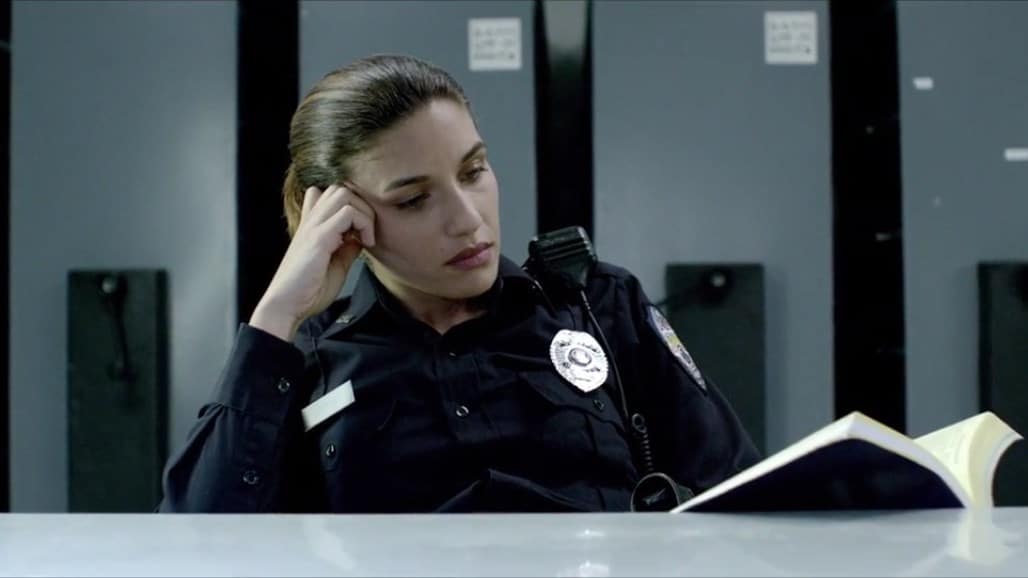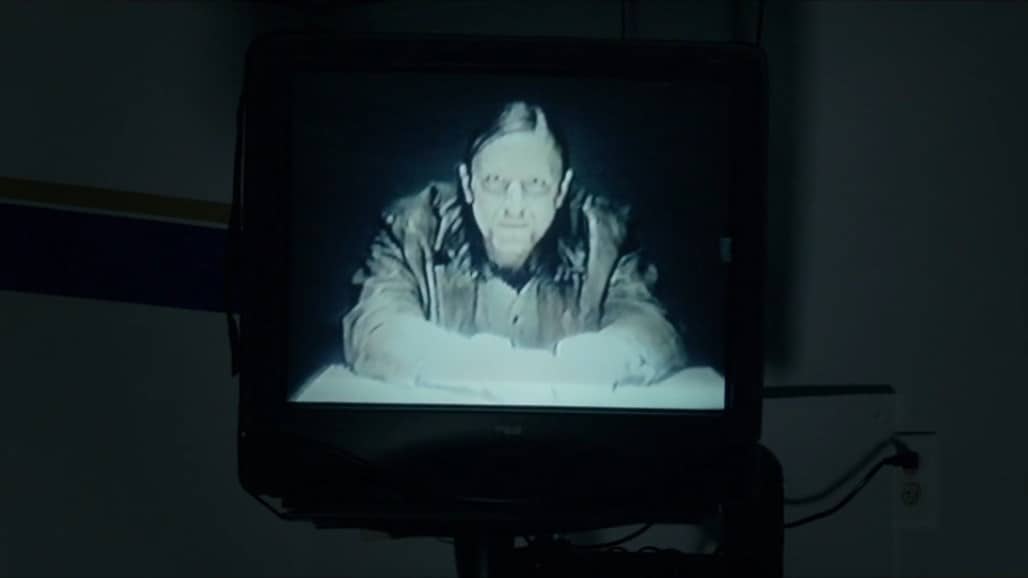 Synopsis: A rookie cop experiences strange events after taking the final shift in a soon to be closed police station.
Director: Anthony DiBlasi
Runtime: 88 minutes
MPAA Rating: R
IMDb: 5.7/10  Rotten Tomatoes: 100%
Netflix (US): No
Tags: Haunted House / Building, High Jump Scare, Religion / The Occult
Jump Scares:  17 (5 major, 12 minor)
Jump Scare Rating: The first 20 minutes gradually increases the tension before unleashing a barrage of jump scares. The most severe scares are confined to two sections: the first is 25 to 28 minutes into the movie and the second towards the end between the 72 and 77 minute marks.


WARNING: The jump scare descriptions listed below may contain minor spoilers
Show Descriptions
Jump Scare Times
12:24 – The homeless man suddenly yells "Shut up!" startling Jessica.
23:12 – A box is thrown in front of Jessica.
25:42 – Jessica sees a figure with a bloody pentagram on their face through the window on the door.
27:54 – The lights turn back on and we see two more bloodied figures with bags over their heads standing behind Jessica.
51:14 – There is a loud static noise as the bag-headed man moves around.
51:52 – The homeless man moves away from the door to reveal several figures hanging from the ceiling.
51:57 – The homeless man suddenly appears back at the window.
54:03 – A door slams.
1:03:44 – Jessica is knocked unconscious as she approaches an open door.
1:07:51 – Jessica sees a woman with a disfigured face under the table.
1:08:28 – The disfigured woman runs past the opening that Jessica is hiding in.
1:09:08 – Jessica opens her eyes and the disfigured woman is right in front of her.
1:11:37 – The homeless man passes behind Jessica.
1:12:09 – Jessica tases the homeless man and he turns to reveal a disfigured face with eyes that appear to have been removed and then stitched back into his head.
1:13:53 – The camera pans back up and one of the bag-headed cultists is standing behind Jessica.
1:15:48 – We see a close up of the bag-headed cultist's face.
1:16:22 – Paymon screeches at Jessica from behind.
(Major scares in bold)
Download a .srt file of the jump scares in Last Shift [more info].