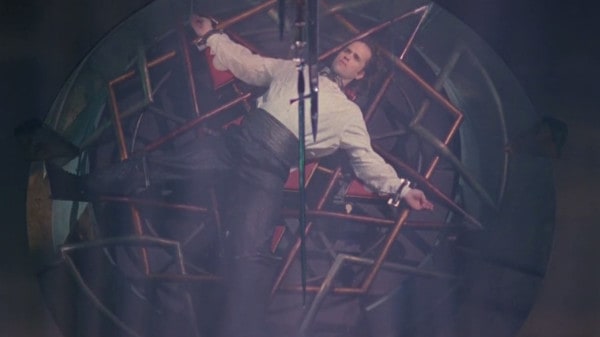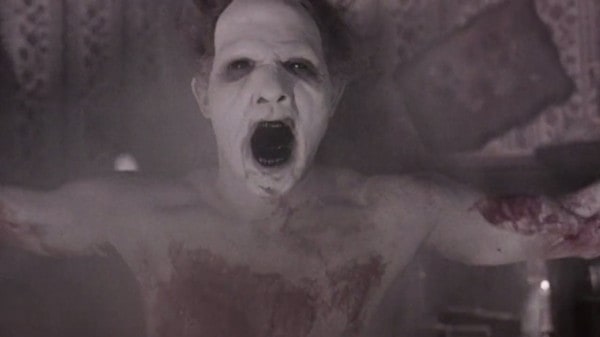 See below for the exact times and descriptions of the 15 jump scares in Lord of Illusions, which has a jump scare rating of 4.0.
Jump Scare Rating: A couple jumpscares, most of which include either someone getting grabbed or a seemingly dead or passed out character coming back.


Synopsis: Private investigator Harry D'Amour gets in over his head when a seemingly routine case leads him to a fanatical cult attempting to resurrect their murdered leader, a powerful magician.
Contributor: Frogge contributed all the information on this page (Sign up now to become a contributor too! Learn more)
Director: Clive Barker
Runtime: 119 minutes
WARNING: The jump scare descriptions listed below may contain minor spoilers

Jump Scare Times
00:08:11 – A cultist grabs the woman walking down the hallway from around the corner.
00:19:42 – A man tackles D'Amour while he's looking at the tied up man in the apartment.
00:20:30 – The presumably passed out man begins to run at D'Amour while screaming.
00:39:29 – The man in the bomber jacket smacks D'Amour with a wooden board as he about to walk around the corner.
00:47:13 – D'Amour spasms in his sleep accompanied by a loud sound.
00:47:35 – D'Amour has a flashing nightmare about Quaid screaming at him.
00:55:07 – Two hands suddenly reach out of the hole.
00:59:11 – A monster appears behind Billy after he calls out for Harry.
01:05:42 – Flames burst out behind D'Amour.
01:19:32 – D'Amour's foot slips and he falls into the open grave.
01:19:52 – A hand grabs D'Amour from the shoulder.
01:24:10 – One of the cultists runs into frame and grabs Dorothea.
01:28:25 – Someone reaches out from under a table and grabs D'Amour by the legs.
01:34:21 – Butterfield attacks D'Amour with a knife after Dorothea says "We can't leave him there."
01:37:50 – The presumably dead cultist buried in the dirt grabs Dorothea's arm.
(Major jump scares in bold)
Watch with subtitles that warn you about jump scares! Download the .srt file of the jump scares in Lord of Illusions. [More info]
Report inaccurate data: Contact us with the URL of this page and a description of what data is inaccurate. We'll work to get it fixed!