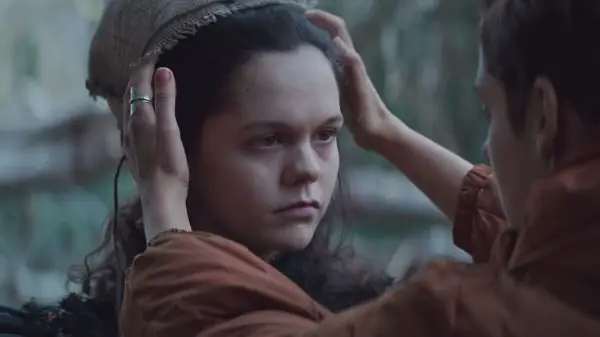 See below for the exact times and descriptions of the 34 jump scares in Marianne, which has a jump scare rating of 4.0.
Jump Scare Rating: With the exception of the 3rd episode, there are consistent jump scares throughout, both telegraphed and random.


Synopsis: Emma, a successful horror writer, is made to return to her hometown after the witch who haunted her dreams fifteen years ago begins to re-appear.
Contributor: Dillon Robinson contributed all the information on this page (Sign up now to become a contributor too! Learn more)
Jump Scares: 34 (23 major, 11 minor)
Episodes: 8
WARNING: The jump scare descriptions listed below may contain minor spoilers

Jump Scare Times
—Episode 1—
00:09:43 – Marianne appears above the daughter in bed.
00:47:46 – Emma's father appears out of nowhere.
00:50:34 – Emma's father appears out of nowhere.
—Episode 2—
00:15:16 – Friend bangs on glass suddenly.
00:16:23 – Bang on door [mild].
00:27:36 – Runs into her father.
—Episode 3—
00:47:44 – While performing CPR, Camile sees Mrs. Daugeron's face swapped, causing her to jump backwards and fall down the stairs.
—Episode 4—
00:25:50 – A hand comes out of the birthing canal.
00:26:32 – Quick shots of demon squealing?
00:37:05 – Emma's name is heard being yelled by Marianne.
00:38:04 – Marianne in human form appears in front of Emma.
00:39:31 – [Homage to Exorcist II nurse scene] Marianne walks at Tonio suddenly from behind before a cut to black.
00:41:28 – A hand appears on the back of Aurore's head while she's looking under the bed.
—Episode 5—
00:14:17 – Marianne is seen behind Aurore before Emma is possessed.
00:20:50 – Aurore's sister shines her light and Marianne is seen.
00:24:09 – Aurore's sister suddenly yells at Emma from behind.
—Episode 6—
00:06:06 – While dreaming, Samuel begins to lunge at Emma, who then imagines a chicken pecking at her face.
00:29:42 – Aurore appears at the window after finding the dog missing.
00:32:50 – Marianne doesn't appear in the mirror as expected. When Samuel turns around, she is standing behind him, but there's no jump scare.
—Episode 7—
00:01:49 – Marianne's covered body moves its head.
00:01:54 – The priest looks down and sees a googly-eyed Marianne smiling at him.
00:04:53 – Dog/Marianne on windshield.
00:08:59 – Aurore is touched.
00:09:11 – Aurore's sister appears behind the curtain.
00:10:53 – Aurore's sister appears again behind them.
00:16:56 – Marianne appears and lunges.
00:17:24 – Aurore is thrown into the wall.
00:25:59 – Arnaud is sucked into the sky by Marianne.
00:26:43 – Marianne appears.
00:27:29 – Musical sting, Arnaud's brother turns into Marianne.
00:34:32 – Musical sting, Marianne's voice.
—Episode 8—
00:08:25 – Smash cut as Emma wakes up.
00:31:19 – A hand comes up from the hole.
00:31:53 – More hands.
(Major jump scares in bold)
Report inaccurate data: Contact us with the URL of this page and a description of what data is inaccurate. We'll work to get it fixed!