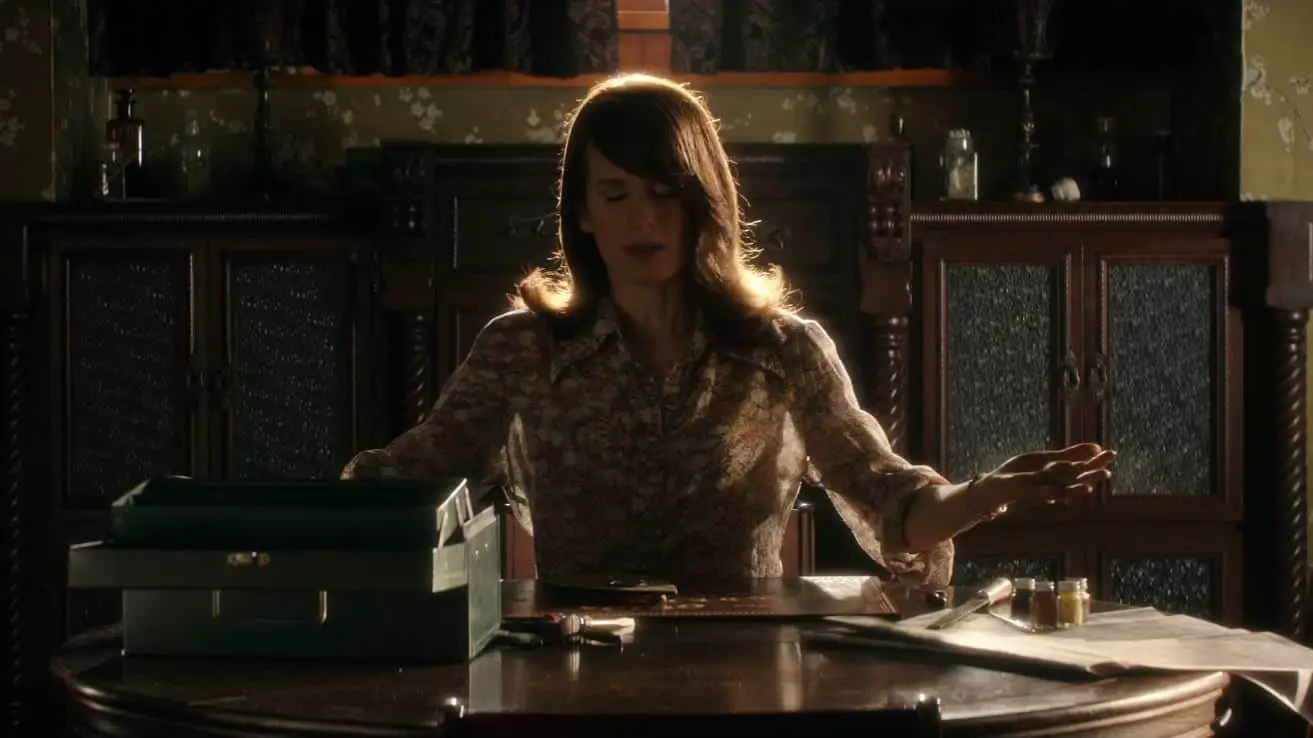 Synopsis: Set in Los Angeles in the 1960s, solo mother Alice Zander inadvertently releases a demon from a Ouija board that possesses her youngest daughter Doris.
Director: Mike Flanagan
Runtime: 99 minutes
MPAA Rating: PG-13
IMDb: 6.1/10  Rotten Tomatoes: 82%
Netflix (US): No
Jump Scares:  18 (3 major, 15 minor)
Jump Scare Rating: Ouija: Origin of Evil has its fair share of jump scares with most occurring past the 40 minute mark.


WARNING: The jump scare descriptions listed below may contain minor spoilers
Show Descriptions
Jump Scare Times
4:33 – The silhouette figure suddenly bursts through the curtain.
13:05 – Ellie's mom bursts into the room causing the group to scream.
24:52 – The sheets are suddenly ripped off Lina's bed.
39:21 – Doris suddenly sits up in bed.
40:48 – A hand appears as Doris looks through the Ouija planchette.
41:05 – Doris looks through the planchette once more and sees a figure move away accompanied by a loud noise.
41:46 – Doris looks at a mirror though the planchette and sees a demon standing with her. [Video]
42:32 – Doris is suddenly beside Lina's bed.
1:05:07 – There is a sudden cut to Doris with white eyes and an unnaturally wide mouth.
1:09:42 – Doris suddenly appears beside Mikey.
1:11:40 – Mikey's body suddenly drops down from a noose. [Video]
1:13:43 – The lights turn off.
1:16:59 – Doris suddenly glides towards Father Tom.
1:18:17 – Father Tom looks up and sees Doris on the ceiling.
1:18:49 – Alice is pushed back by an unseen force as Mikey drops down to grab Lina. [Video]
1:20:08 – Doris begins talking from directly behind Alice.
1:20:24 – Alice looks up as she is being dragged away and sees Doris.
1:22:28 – Lina knocks Doris away with a chair.
(Major scares in bold)
Download a .srt file of the jump scares in Ouija: Origin of Evil [more info].