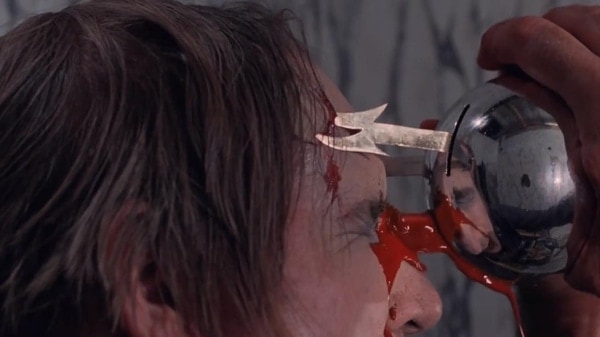 See below for the exact times and descriptions of the 14 jump scares in Phantasm, which has a jump scare rating of 3.0.
Jump Scare Rating: For a classic, Phantasm surprisingly relies heavily on the use of jump scares. Many of them are much weaker than in modern movies, but in the finale there are 1 or 2 effective moments.


Synopsis: After a boy makes a strange observation at a funeral, he seems to be followed by a Tall Man.
Contributor: Sean contributed all the information on this page (Sign up now to become a contributor too! Learn more)
Director: Don Coscarelli
Runtime: 89 minutes
WARNING: The jump scare descriptions listed below may contain minor spoilers

Jump Scare Times
00:06:31 – The man is suddenly grabbed by the Tall Man.
00:13:54 – As Mike rides his motorcycle the camera pans to the Tall Man. There follows a bang and Mike falls off the bike.
00:25:27 – Mike's having a nightmare. His bed is suddenly in a graveyard where the Tall Man is buried. Suddenly zombies burst out of the ground and grab his arms.
00:34:00 – A door slams shut.
00:38:16 – As Mike runs towards the Tall Man something scratches across the soundtrack and the Tall Man runs towards Mike.
00:41:55 – Mike opens the box from which suddenly a creature with wings jumps and screams.
00:47:09 – Jodie is suddenly jumped from behind.
00:53:09 – As Reggie creeps through the hall his wife suddenly comes out of a dark corner and screams at him.
00:57:19 – Over Jodie suddenly hands come out of the wall.
01:04:35 – Mike opens the front door and the Tall Man suddenly appears before him.
01:19:36 – Mike pulls back the curtain and sees the Tall Man standing outside the window.
01:20:37 – Behind Mike, the door flies open and the Tall Man is in the doorway.
01:22:28 – The Tall Man suddenly storms out of the bushes.
01:26:24 – After the Tall Man says "Boy" Mike is pulled into the mirror.
(Major jump scares in bold)
Watch with subtitles that warn you about jump scares! Download the .srt file of the jump scares in Phantasm. [More info]
Report inaccurate data: Contact us with the URL of this page and a description of what data is inaccurate. We'll work to get it fixed!