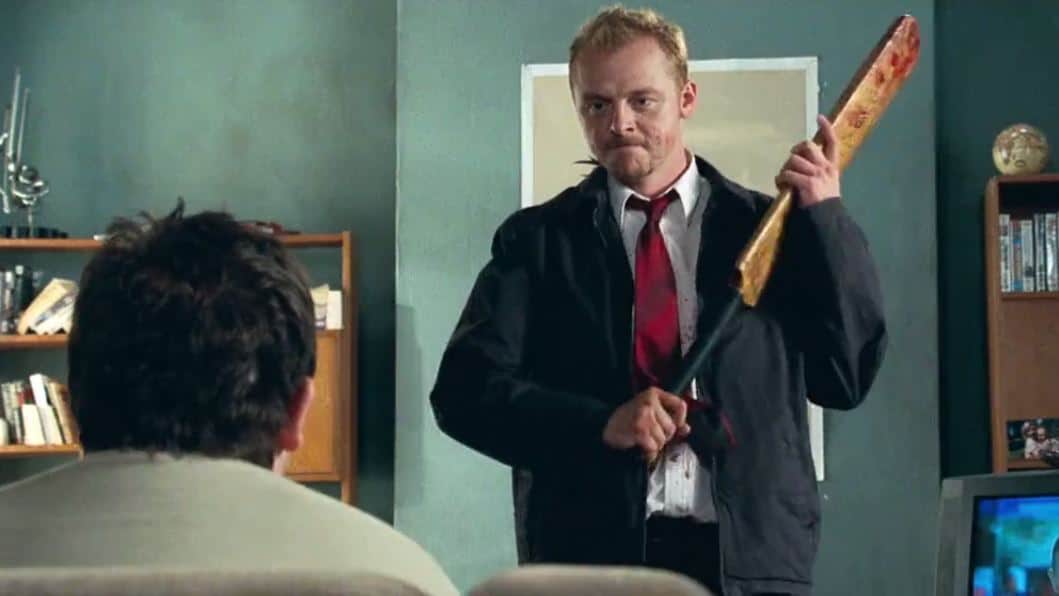 See below for the exact times and descriptions of the 13 jump scares in Shaun of the Dead, which has a jump scare rating of 2.5.
Jump Scare Rating: Shaun of the Dead falls closer to the comedy end of the horror comedy spectrum and although there are some minor jump scares none of them are particularly scary.

Synopsis: Shaun, a 29 year old electronics salesman with no direction in his life, must team up with his best friend Ed and ex-girlfriend Liz to fend off an outbreak of zombies.
Contributor: Anthony Wilson contributed all the information on this page (Sign up now to become a contributor too! Learn more)
Director: Edgar Wright
Runtime: 99 minutes
WARNING: The jump scare descriptions listed below may contain minor spoilers

Jump Scare Times
00:08:33 – Nelson startles Shaun as he is looking at the paper.
00:11:27 – Noel surprises Shaun.
00:13:17 – Shaun walks into Yvonne.
00:30:49 – Shaun and Ed turn around and see another zombie in the back yard.
00:40:09 – Pete's hand reaches out from behind the shower curtain.
00:44:09 – Barbara bursts into the lounge startling Shaun.
00:46:37 – A zombie appears behind Phillip.
00:53:59 – Shaun looks back at Phillip who has now turned into a zombie.
00:55:55 – Shaun's group runs into another group of survivors.
00:58:16 – Shaun and a zombie break through the fence.
01:11:11 – A zombie puts his hand on David's shoulder.
01:22:16 – The zombies break the window that David is standing in front of.
01:33:46 – A zombified Ed leans down and attempts to eat Shaun's arm.
Watch with subtitles that warn you about jump scares! Download the .srt file of the jump scares in Shaun of the Dead. [More info]
Report inaccurate data: Contact us with the URL of this page and a description of what data is inaccurate. We'll work to get it fixed!