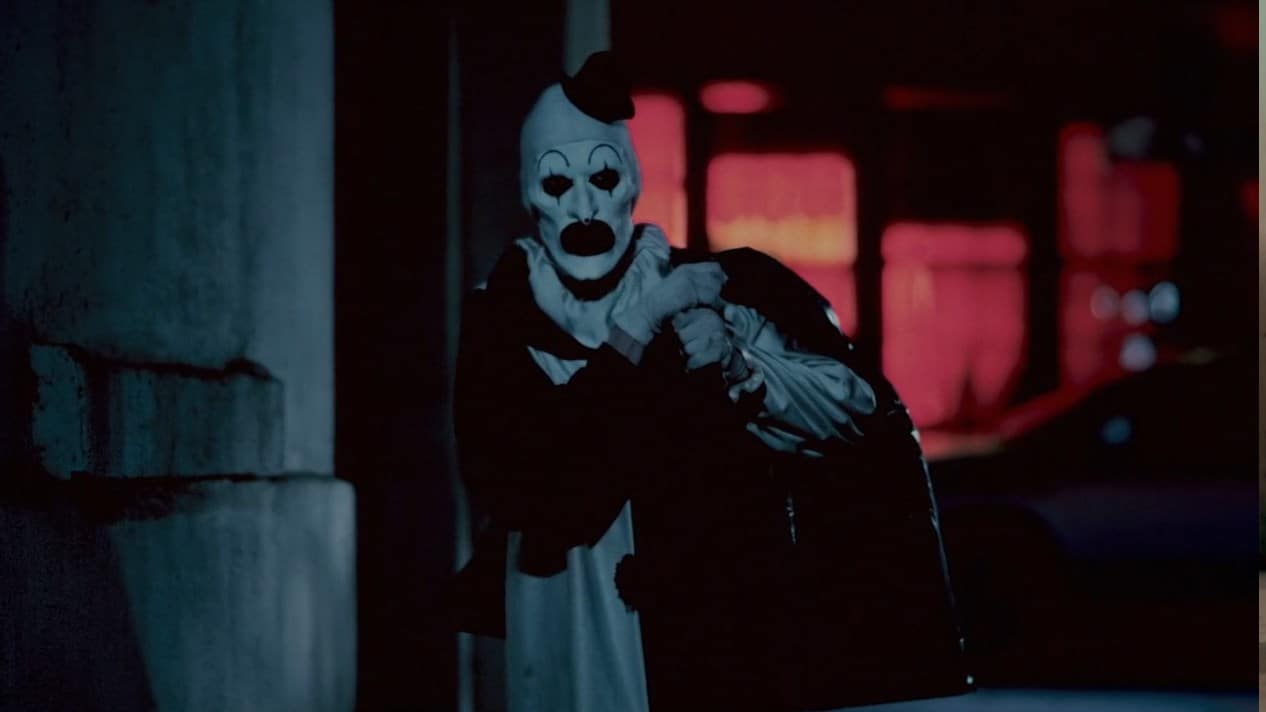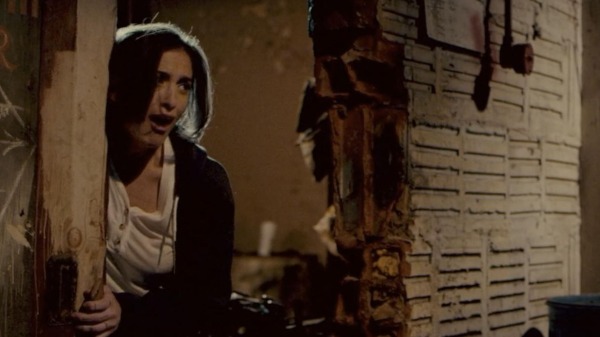 See below for the exact times and descriptions of the 18 jump scares in Terrifier, which has a jump scare rating of 3.5.
Jump Scare Rating: Not for the faint of heart, Terrifier has numerous jump scares but they pale in comparison to the extreme levels of gore and depravity on display.


Synopsis: A murderous silent clown torments his victims on Halloween night.
Contributor: Anthony Wilson contributed all the information on this page (Sign up now to become a contributor too! Learn more)
Director: Damien Leone
Runtime: 82 minutes
WARNING: The jump scare descriptions listed below may contain minor spoilers

Jump Scare Times
00:04:41 – The disfigured woman suddenly attacks the TV host.
00:25:13 – Tara backs into a woman standing behind her.
00:26:45 – After standing motionless for several seconds, the clown suddenly runs after Tara.
00:28:09 – Accompanied by a sound effect, the clown suddenly looks towards where Tara is hiding.
00:29:57 – The clown stabs Tara in the leg.
00:34:07 – After Tara yells "Mister!", the clown grabs her from behind.
00:35:41 – The clown lifts the hammer and lunges at Tara causing her to flinch.
00:35:50 – The clown again lunges at Tara with the hammer.
00:46:57 – The pest exterminator turns around and almost walks into a woman standing behind him.
00:57:04 – The clown (disguised as Tara), suddenly sits up behind Vicky.
00:59:00 – The clown appears in front of the peep hole that Vicky is looking through.
01:01:17 – During a tense scene, a mop falls out of a bucket creating a loud noise.
01:05:55 – The clown suddenly places some plastic wrap over Vicky's face.
01:07:38 – There is a sudden cut to Tara's mutilated corpse.
01:11:33 – The clown appears through a door and attacks the pest exterminator.
01:13:27 – The clown reaches through a gap in the doors to grab Vicky.
01:19:44 – There is a loud noise and the lights start to flicker.
01:20:21 – The clown grabs the coroner by the neck.
(Major jump scares in bold)
Watch with subtitles that warn you about jump scares! Download the .srt file of the jump scares in Terrifier. [More info]
Report inaccurate data: Contact us with the URL of this page and a description of what data is inaccurate. We'll work to get it fixed!