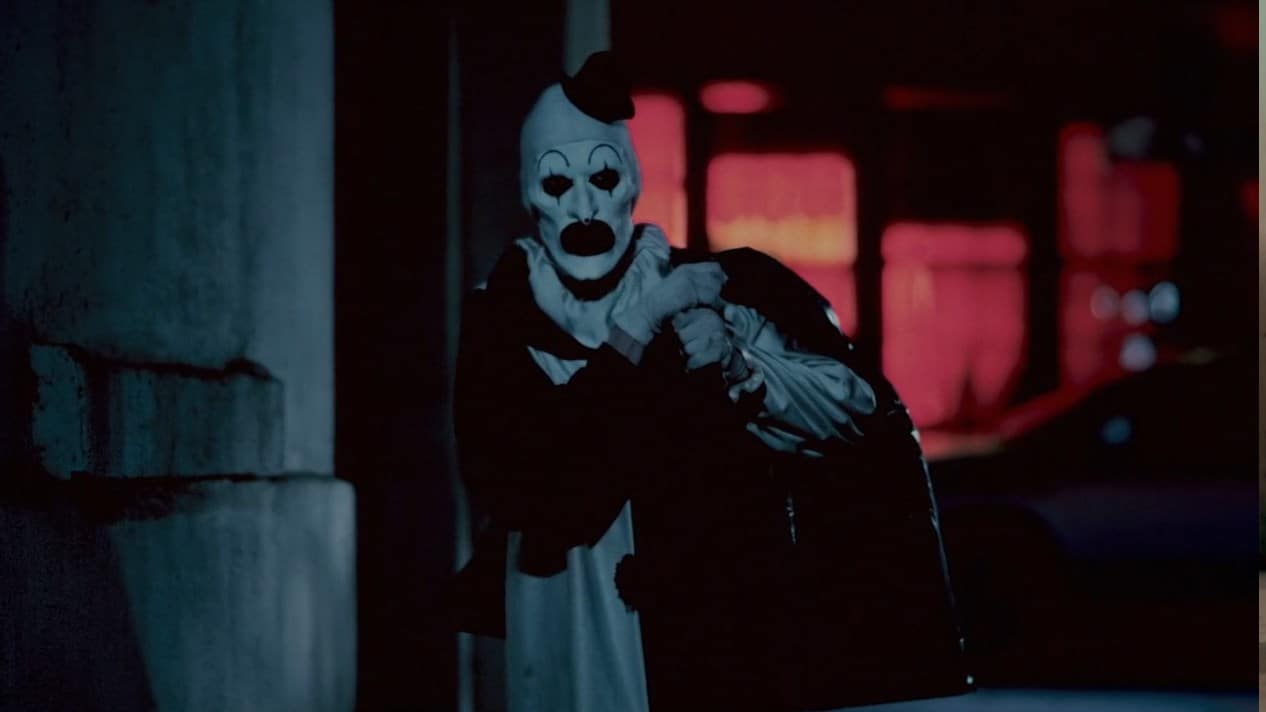 Synopsis: A murderous silent clown torments his victims on Halloween night.
Director: Damien Leone
Runtime: 82 minutes
MPAA Rating: Unrated
IMDb: 5.7/10  Rotten Tomatoes: 71%
Netflix (US): Yes
Tags: Gory, Low Budget, Slasher
Jump Scares:  18 (2 major, 16 minor)
Jump Scare Rating: Not for the faint of heart, Terrifier has numerous jump scares but they pale in comparison to the extreme levels of gore and depravity on display.


WARNING: The jump scare descriptions listed below may contain minor spoilers
Show Descriptions
Jump Scare Times
Netflix reverse timestamps included in brackets.
4:41 (1:19:36) – The disfigured woman suddenly attacks the TV host.
25:13 (59:05) – Tara backs into a woman standing behind her.
26:45 (57:33) – After standing motionless for several seconds, the clown suddenly runs after Tara.
28:09 (56:09) – Accompanied by a sound effect, the clown suddenly looks towards where Tara is hiding.
29:57 (54:21) – The clown stabs Tara in the leg.
34:07 (50:11) – After Tara yells "Mister!", the clown grabs her from behind.
35:41 (48:37) – The clown lifts the hammer and lunges at Tara causing her to flinch.
35:50 (48:28) – The clown again lunges at Tara with the hammer.
46:57 (37:21) – The pest exterminator turns around and almost walks into a woman standing behind him.
57:04 (27:14) – The clown (disguised as Tara), suddenly sits up behind Vicky.
59:00 (25:18) – The clown appears in front of the peep hole that Vicky is looking through.
1:01:17 (23:01) – During a tense scene, a mop falls out of a bucket creating a loud noise.
1:05:55 (18:23) – The clown suddenly places some plastic wrap over Vicky's face.
1:07:38 (16:40) – There is a sudden cut to Tara's mutilated corpse.
1:11:33 (12:45) – The clown appears through a door and attacks the pest exterminator.
1:13:27 (10:51) – The clown reaches through a gap in the doors to grab Vicky.
1:19:44 (4:34) – There is a loud noise and the lights start to flicker.
1:20:21 (3:57) – The clown grabs the coroner by the neck.
(Major scares in bold)
Download a .srt file of the jump scares in Terrifier [more info].