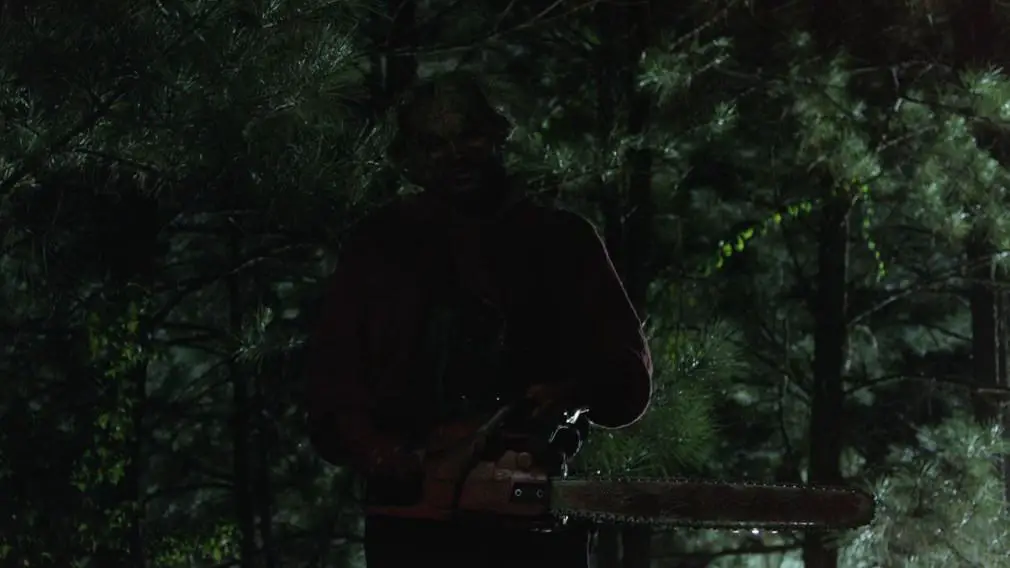 Synopsis: A young woman travels to her grandmother's home in rural Texas to collect her inheritance where she encounters the notorious serial killer Leatherface.
Director: John Luessenhop
Runtime: 92 minutes
MPAA Rating: R
IMDb: 4.8/10  Rotten Tomatoes: 18%
Netflix (US): No
Tags: Slasher
Jump Scares:  14 (3 major, 11 minor)
Jump Scare Rating: Teas Chainsaw 3D is more gory than jumpy although there are a couple of solid scares in the middle third.


WARNING: The jump scare descriptions listed below may contain minor spoilers
Show Descriptions
Jump Scare Times
0:51, 1:09, 1:38, 1:51 – The opening sequence is a brief recap of the events of the original film. On several occasions we see Leatherface suddenly appear accompanied by a high pitched sound effect.
16:50 – Kenny hits someone as he drives off from the gas station.
31:36 – Darryl turns around and is attacked by Leatherface.
37:41 – Darryl looks down a dark hallway and Leatherface suddenly appears out of the darkness and attacks him.
39:35 – Heather closes the closet door and sees a dead woman in the mirror.
48:58 – Leatherface breaks a window with his chainsaw.
1:01:35 – A rat scuttles away in a neighboring room startling the officer.
1:04:17 – The officer opens a chest freezer and a screaming Nikki is hiding inside.
1:04:44 – The officer is attacked by Leatherface.
1:14:31 – Heather pokes her knife through one of the holes in the barrier startling Carl.
1:23:49 – Heather reaches out to touch Leatherface but he grabs her wrist.
(Major scares in bold)
Download a .srt file of the jump scares in Texas Chainsaw 3D [more info].