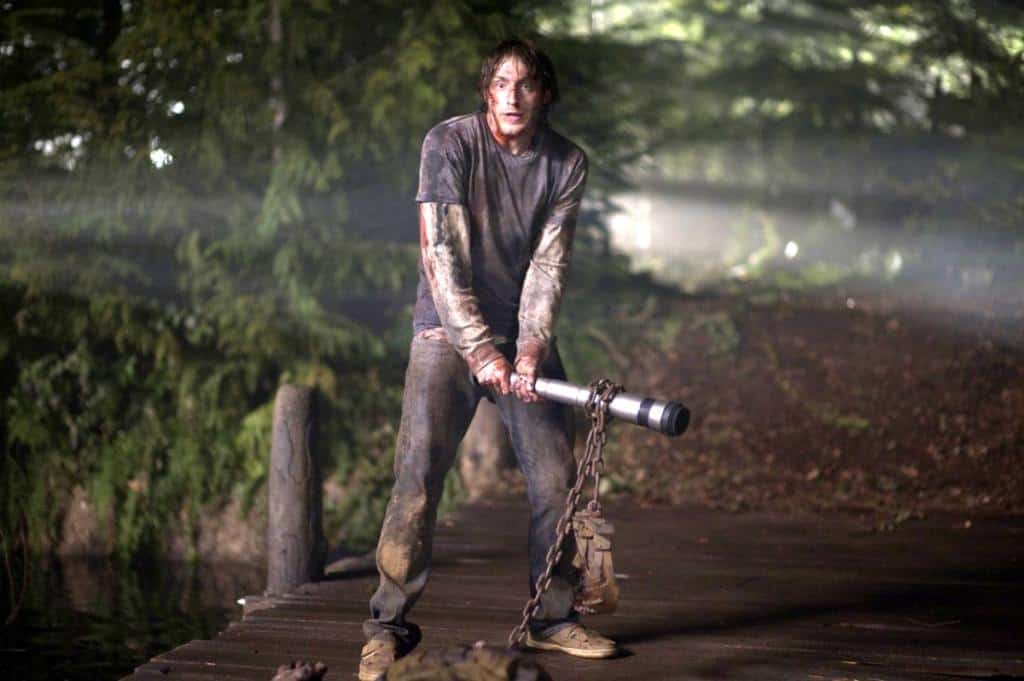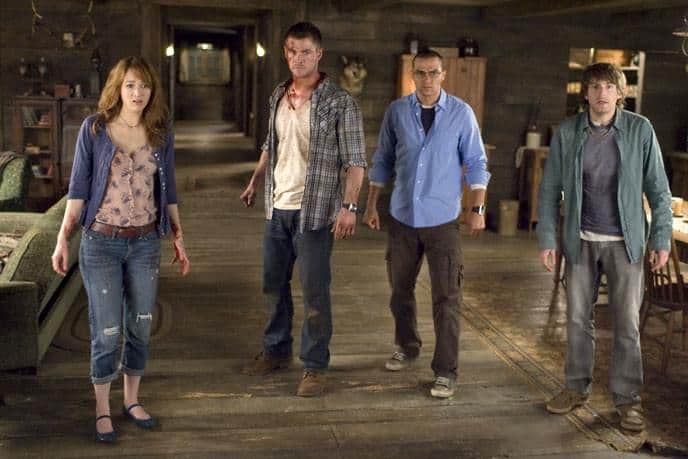 Synopsis: Five college friends take a holiday at an isolated cabin in the woods where they unwittingly summon a family of homicidal zombies.
Director: Drew Goddard
Runtime: 95 minutes
MPAA Rating: R
IMDb: 7.0/10  Rotten Tomatoes: 91%
Netflix (US): No
Jump Scares:  13 (2 major, 11 minor)
Jump Scare Rating: The sudden appearance of the title card on screen at the beginning of the movie is probably the most startling moment. There are further jump scares throughout the movie however most are quite predictable and not overly scary or startling.


WARNING: The jump scare descriptions listed below may contain minor spoilers
Show Descriptions
Jump Scare Times
2:47 – The title card appears abruptly on the screen accompanied by a scream. [Video]
10:31 – The gas station attendant suddenly appears in front of Holden.
15:37 – Holden removes a painting from the wall to reveal a window with Dana standing behind it.
27:13 – The cellar door opens by itself.
41:57 – Jules is stabbed in the hand while having sex.
46:33 – An agitated Curt suddenly appears beside Marty.
48:36 – Something punches through the cabin wall.
49:59 – A zombie breaks through the window and grabs Marty.
51:29 – A zombie hand comes through the window in Dana's room.
53:09 – Holden is stabbed in the back by a zombie.
1:01:15 – Holden is stabbed in the neck while driving.
1:03:30 – The father zombie bangs his chain down in front of Dana.
1:09:49 – Dana puts her face up to a window and a werewolf lunges at the glass from the other side. [Video]
(Major scares in bold)
Download a .srt file of the jump scares in The Cabin In The Woods [more info].