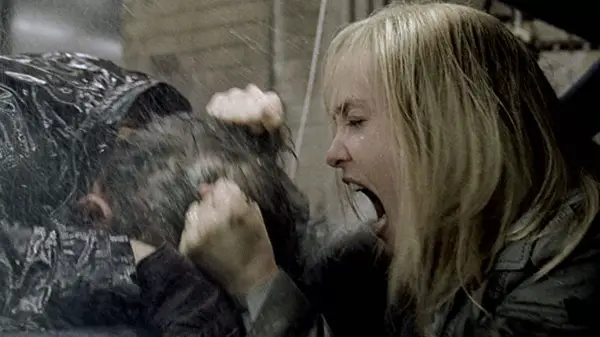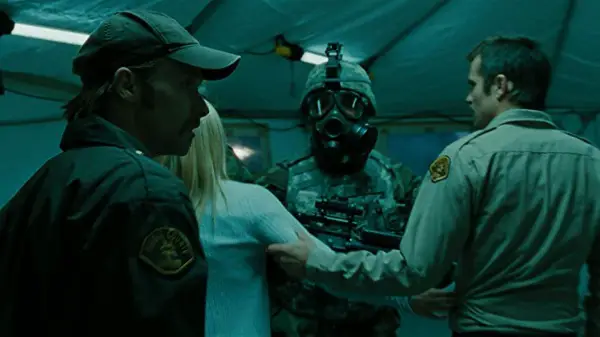 See below for the exact times and descriptions of the 18 jump scares in The Crazies, which has a jump scare rating of 4.0.
Jump Scare Rating: Several jump scares, most of which occur from the 55 minute mark onwards. Probably not recommended for those who dislike jump scares.


Synopsis: Sheriff Dutten and his pregnant wife try and escape their small of Ogden Marsh after the town water supply is accidentally contaminated with a virus that turns people into violent killers.
Contributor: Anthony Wilson contributed all the information on this page (Sign up now to become a contributor too! Learn more)
Director: Breck Eisner
Runtime: 101 minutes
WARNING: The jump scare descriptions listed below may contain minor spoilers

Jump Scare Times
00:14:09 – Nicholas grabs Deadra's shoulder.
00:15:10 – An eye appears on the other side of the keyhole that Deadra is looking out from.
00:23:00 – David grabs Russell by the wrist.
00:23:16 – An apparently dead Bill suddenly jumps up and starts screaming in his cell. [Video].
00:26:40 – Jim attacks David with a metallic instrument.
00:26:57 – Jim appears above David holding some sort of circular saw.
00:29:28 – A large number of military personnel apprehend David as he exits the shed.
00:56:43 – David is grabbed around the neck by one of the Crazies.
00:58:23 – The female Crazie drops to the ground to reveal the male Crazie standing behind her.
01:02:16 – Becca screams suddenly.
01:04:30 – The face of a Crazie comes in to view in the back window.
01:05:24 – A car is hit by a missile from a helicopter and explodes.
01:09:07 – A man is shot through the head without warning.
01:23:01 – Judy pears around a corner and sees a Crazie. [Video].
01:25:29 – David grabs Judy from behind and puts his hand over her mouth. [Video].
01:25:40 – David opens a truck door and a dead body falls out.
01:26:43 – A hand grabs David around the ankle.
01:28:23 – Judy startles David.
(Major jump scares in bold)
Watch with subtitles that warn you about jump scares! Download the .srt file of the jump scares in The Crazies. [More info]
Report inaccurate data: Contact us with the URL of this page and a description of what data is inaccurate. We'll work to get it fixed!