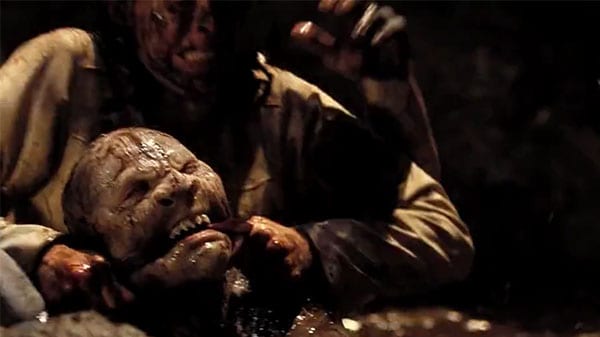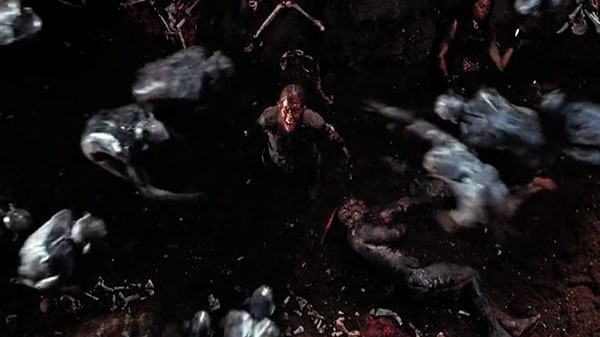 See below for the exact times and descriptions of the 20 jump scares in The Descent: Part 2, which has a jump scare rating of 5.0.
Jump Scare Rating: This film heavily relies on jump scares. Most jump scares have obvious setups.


Synopsis: A team of rescuers head into the depths of the caves to find a group of missing women. They are not as alone as they think.
Contributor: Saggy Sloth contributed all the information on this page (Sign up now to become a contributor too! Learn more)
Director: Jon Harris
Runtime: 93 minutes
WARNING: The jump scare descriptions listed below may contain minor spoilers

Jump Scare Times
00:01:43 – A bloody woman smashes against the car window.
00:08:39 – A dog runs out of dark hole.
00:22:22 – A camouflage crawler screams at Sarah.
00:33:12 – A crawler suddenly apears next the the thermal camera.
00:43:08 – The camera pans to the left exposing a crawler.
00:44:29 – Sarah grabs Rios from behind.
00:45:06 – Dan is attacked by a crawler.
00:47:44 – A crawler appears through a hole in the rocks.
00:50:53 – A flashlight startles Cath and Greg.
00:52:11 – A human hand drops from the roof.
00:56:18 – A crawler attacks Greg.
00:58:00 – A crawler attacks Cath.
01:00:40 – Sarah touches Rios shoulder.
01:03:47 – A crawler jumps towards Vaines.
01:07:32 – A crawler jumps out from under the water.
01:08:57 – A crawler jumps out from under the water a second time.
01:14:57 – Juno comes into camera view and screams.
01:22:57 – A hand grabs Juno.
01:28:34 – Rios gets hit with a shovel.
01:29:28 – A crawler jumps out of the hole towards the camera.
(Major jump scares in bold)
Watch with subtitles that warn you about jump scares! Download the .srt file of the jump scares in The Descent: Part 2. [More info]
Report inaccurate data: Contact us with the URL of this page and a description of what data is inaccurate. We'll work to get it fixed!