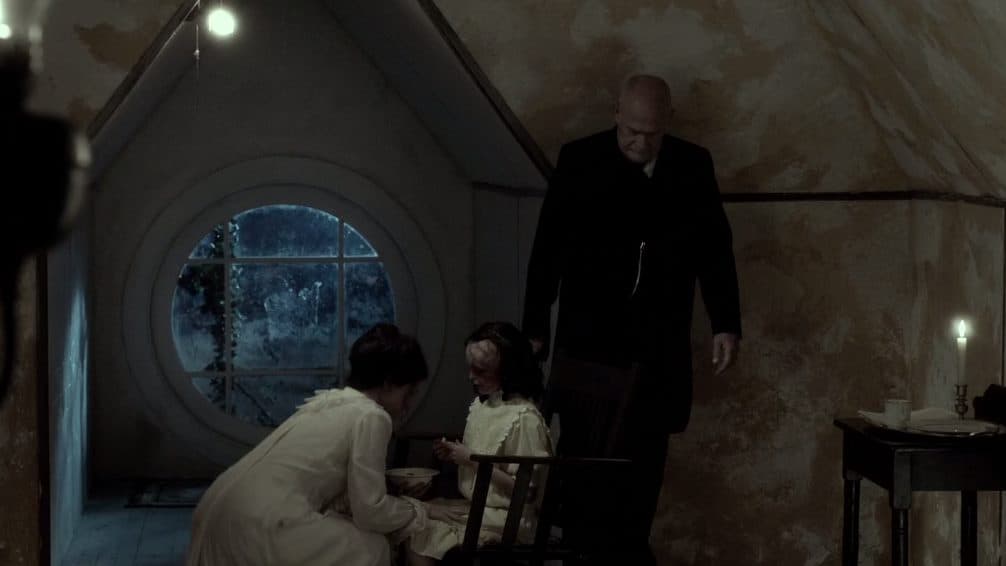 Synopsis: A fragile wife moves into a rural home with her husband and son where she discovers a mysterious room in the attic with a dark past.
Director: D.J. Caruso
Runtime: 90 minutes
MPAA Rating: R
IMDb: 3.9/10  Rotten Tomatoes: 0%
Netflix (US): Yes
Jump Scares:  9 (0 major, 9 minor)
Jump Scare Rating: Low level jump scares that won't cause most viewers any issues.

WARNING: The jump scare descriptions listed below may contain minor spoilers
Show Descriptions
Jump Scare Times
Note: Some versions of the film omit a dinner scene that occurs just after the hour mark (during which Dana suffers a mental breakdown). If this scene is missing, the final two jump scares will occur 5 minutes earlier at approximately 1:06:33 and 1:07:35.
3:31 – Several lights blow as Dana flicks the light switch.
11:06 – An animal in the bushes startles Dana as she takes a photograph.
16:32 – Accompanied by a sound effect, Lucas reveals his bloodied hands.
20:41 – Bats fly out of a cupboard.
29:00 – A figure passes the camera in the foreground.
38:42 – Dana bumps into Ben while following the kite.
1:01:44 – Dana closes the bathroom cabinet and sees David in the mirror.
1:13:02 – Dana turns around and sees Ben hanging from a tree.
1:14:03 – A dog leaps at Dana as she opens a door.
(Major scares in bold)
Download a .srt file of the jump scares in The Disappointments Room [more info].