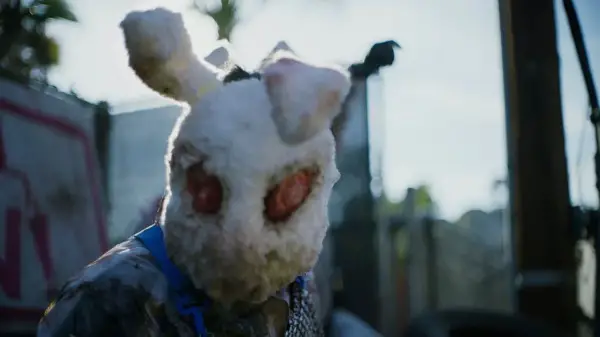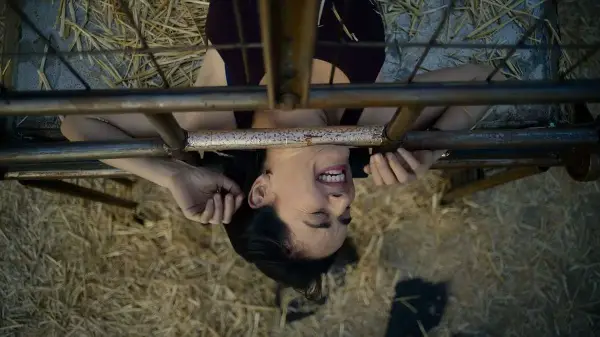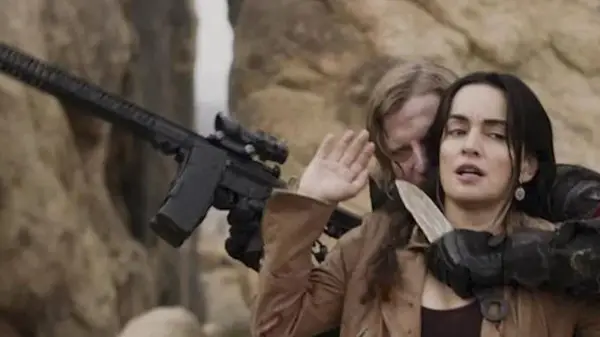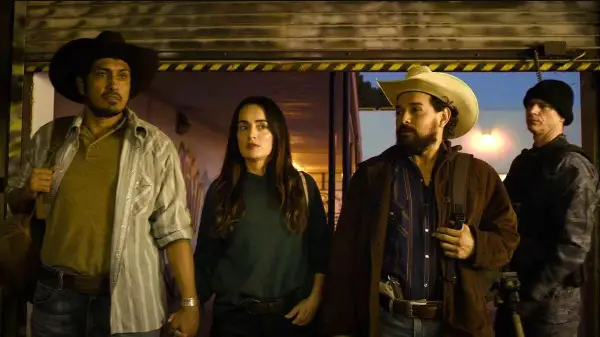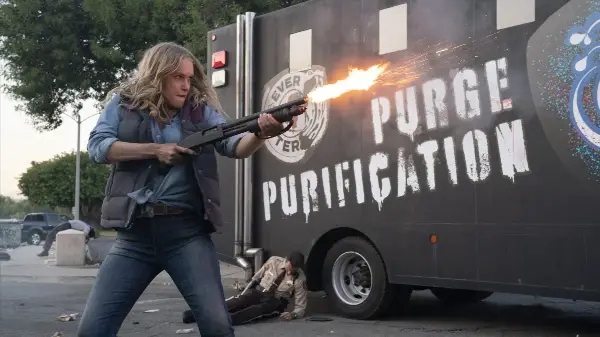 See below for the exact times and descriptions of the 12 jump scares in The Forever Purge, which has a jump scare rating of 3.0.
Jump Scare Rating: The Forever Purge manages very well to build up the suspense and then hit you with a jump scare – you know it's coming but you just don't know when. Though a couple of the major jumps scares , to me, were very unexpected.


Synopsis: Adela and her husband, Juan, live in Texas, where he works for the rich Tucker family as a ranch hand. Caleb, the Tucker patriarch, is impressed by Juan, but his son, Dylan, is infuriated and jealous of him.   A masked gang of killers target the Tuckers the morning following the Purge, compelling both families to come together and fight back as the country descends into chaos.
Contributor: HorrorPsycho contributed all the information on this page (Sign up now to become a contributor too! Learn more)
Director: Everardo Gout
Runtime: 103 minutes
WARNING: The jump scare descriptions listed below may contain minor spoilers

Jump Scare Times
The jump scare timings listed below are based on a theatrical viewing and are approximate only.
00:02:59 – In a dark tunnel, a boys face suddenly appears.
00:25:39 – Dylan closes his gun safe door to reveal his wife unexpectedly standing there.
00:32:43 – A horse suddenly bolts out of it's stall.
00:33:29 – A scary man suddenly appears in front of Dylan.
00:34:07 – As Adela pulls a lever to free a goat from it's cage, a bar suddenly clamps down on her neck.
00:35:10 – Darius suddenly hits a 'Rabbit Head' man who is attacking Adela.
00:48:19 – A masked man with an axe bangs on the truck cab window.
00:49:03 – A masked man with a sledgehammer attacks Dylan.
01:06:21 – A bat skeleton suddenly falls from the ceiling right in front of Adela.
01:07:12 – A presumed to be dead body that is pinned against the wall, suddenly attacks Adela.
01:13:41 – The sound of a gun lever action is suddenly heard behind Adela.
01:27:17 – An eye suddenly opens in the socket of a Texas Longhorn skull.
(Major jump scares in bold)
Report inaccurate data: Contact us with the URL of this page and a description of what data is inaccurate. We'll work to get it fixed!