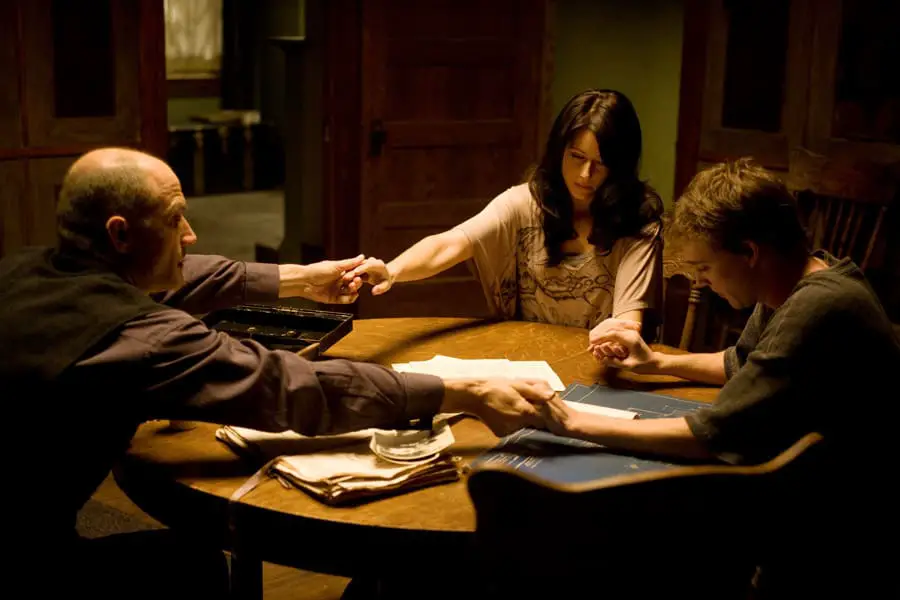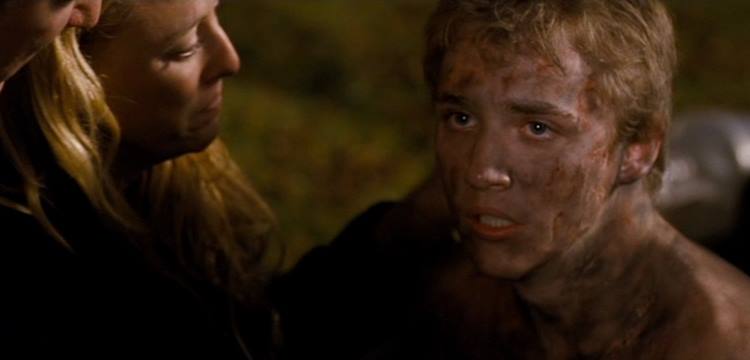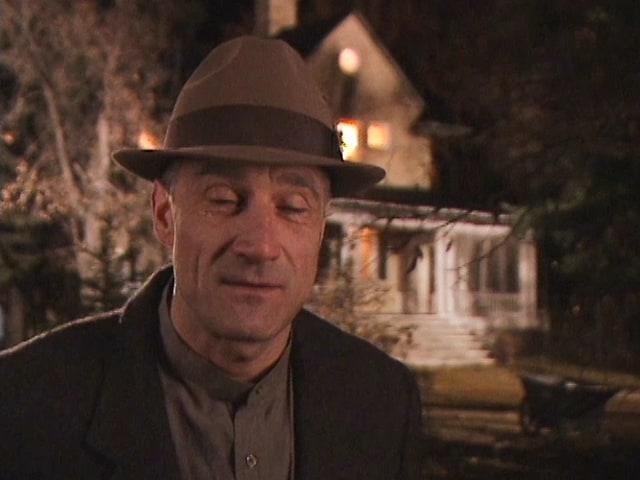 Synopsis: A family move to up-scale Connecticut to look after their son, Matt, who is suffering from cancer. They soon find that Matt has a special connection with dark events that occurred in the building many years prior.
Director: Peter Cornwell
Runtime: 102 minutes (unrated edition)
MPAA Rating: Unrated
IMDb: 5.9/10  Rotten Tomatoes: 17%
Netflix (US): No
Jump Scares:  26 (1 major, 25 minor)
Jump Scare Rating: Numerous jump scares throughout, often these are in the form of the sudden appearance of mutilated corpses. The most significant scare occurs at the 64 minute mark.

WARNING: The jump scare descriptions listed below may contain minor spoilers
Show Descriptions
Jump Scare Times
11:30 – Matt sees a frightening vision in a basement window.
16:50 – A figure can be seen in a mirror as Sara opens a closet door.
17:26 – Matt turns around to see that the water Sara is mopping the floor with has turned to blood.
18:38 – Some plates fall on the floor and break.
23:26 – Matt gets a shock from the door in the basement.
24:19 – Matt has a vision where his hand sinks through a pillar and gets stuck in rotting meat.
29:30 – Matt begins to have another vision.
36:19 – Sara turns around and is surprised by Matt standing in the doorway.
38:23 – A figure runs past Matt.
39:26 – The door slams behind Matt.
39:54 – One of the corpses in the mortuary begins to move.
40:03 – Several of the tattooed corpses are now standing around Matt.
42:13 – Matt sits up and comes face to face with a burnt figure.
42:28 – The burnt figure disappears in a bright flash.
59:02 – Matt starts to have another vision involving Jonah and Aickman.
1:02:25 – Wendy wakes up as a bird hits the window.
1:02:51 – As Wendy goes to lift a sheet covering the bird, a foot suddenly appears in view.
1:04:01 – Sara turns on the bed-side light and sees a corpse standing in front of her. [Video]
1:11:04 – The furnace door shuts as Nicholas tries to examine it.
1:12:39 – Jonah's spirit suddenly moves closer to Sara and Matt.
1:12:50 – Jonah's spirit now stands right behind Sara and Matt.
1:16:32 – Nicholas looks in the rear view mirror and sees a burnt corpse.
1:18:25 – A corpse flashes up on the screen during a flash-back to Jonah.
1:21:57 – The shower curtain suddenly wraps itself around Wendy.
1:23:54 – An axehead breaks through the door in front of Wendy.
1:30:07 – A corpse falls down in front of Matt and Sara.
(Major scares in bold)
Download a .srt file of the jump scares in The Haunting in Connecticut [more info].