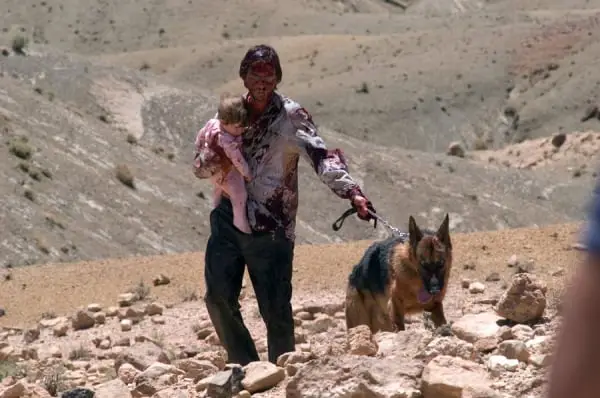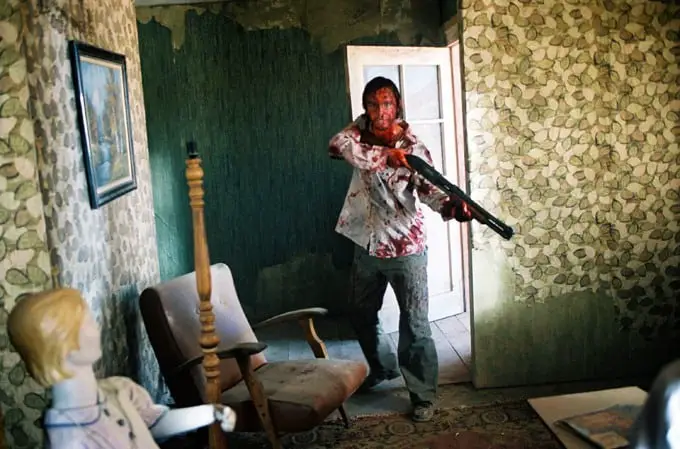 Synopsis: An American family gets stalked by a group of demented killers in the middle of the desert.
Director: Alexandre Aja
Runtime: 107 min
MPAA Rating: R
IMDb: 6.4/10  Rotten Tomatoes: 49%
Netflix (US): No
Jump Scares: 9 (9 minor, 0 major)
Jump Scare Rating: A very disturbing slasher/horror movie that isn't for the squeamish. In terms of actual jump scares, most are quite minor and occur mainly in the last half hour of the movie.

WARNING: The jump scare descriptions listed below may contain minor spoilers
Show Descriptions
Jump Scare Times
12:32 – Something bangs on the outhouse.
14:44 – An old man appears behind Lynn.
26:11 – Bobby bangs against the caravan.
32:12 – Someone runs past the camera while Bobby is searching for his dog.
1:16:00 – Doug sees the baby through the window and turns to see a mutant walk from behind the building.
1:19:06 – As Doug is leaving the building he is a confronted by a mutant.
1:24:46 – One of the mutants jumps through the door.
1:26:13 – A mutant jumps through the wall.
1:38:25 – A mutant jumps onto Doug from above.
Download a .srt file of the jump scares in The Hills Have Eyes [more info].