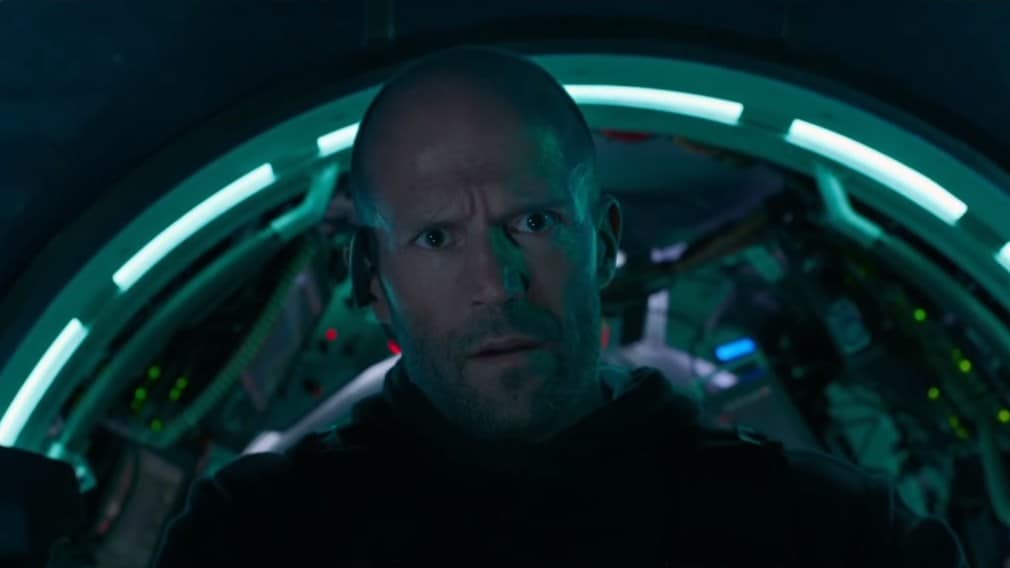 Synopsis: Rescue diver Jonas Taylor is called on to save a group of scientists trapped deep in the Pacific Ocean where a giant prehistoric shark lurks.
Director: Jon Turteltaub
Runtime: 113 minutes
MPAA Rating: PG-13
IMDb: 6.1/10  Rotten Tomatoes: 46%
Netflix (US): No
Tags: Book Adaptation, Shark
Jump Scares:  18 (0 major, 18 minor)
Jump Scare Rating: The sudden appearance of the shark results in numerous jump scares although most lack any real bite.


WARNING: The jump scare descriptions listed below may contain minor spoilers
Show Descriptions
Jump Scare Times
The timings below are based on a theatrical viewing and are approximate only.
1:40 – There is a loud bang after someone says "Jonas, there's something outside the ship".
21:02 – There is a loud noise as the sub is hit.
32:08 – As Suyin starts counting down something slams into the glider.
32:41 – A tentacle suddenly lands on the glider startling Suyin.
45:44 – The Megalodon bites into the glass startling Meiying.
46:48 – A whale bangs into the window in front of Mac.
47:02 – The Megalodon suddenly attacks the whale.
53:19 – Jonas submerges once more and the shark is now swimming directly in front of him.
58:13 – A shark bumps into the tank that Suyin is in.
58:57 – The Megalodon rams the tank.
59:26 – The Megalodon rams the tank once more.
1:05:46 – As The Wall leans in to the shark carcass for a picture, the carcass suddenly moves and he falls overboard.
1:06:56 – The Megalodon jumps out of the water and swallows The Wall.
1:22:20 – Morris leans out of the boat to look at the carcass and is startled when a man jumps down beside him.
1:23:19 – Morris briefly rests on the carcass of the dead whale before the Megalodon appears and eats him.
1:30:52 – The shark lunges out of the water and attacks the group of beach swimmers.
1:33:22 – The Megalodon suddenly appears in front of Jonas.
1:36:16 – A loud splash startles DJ and Meiying.