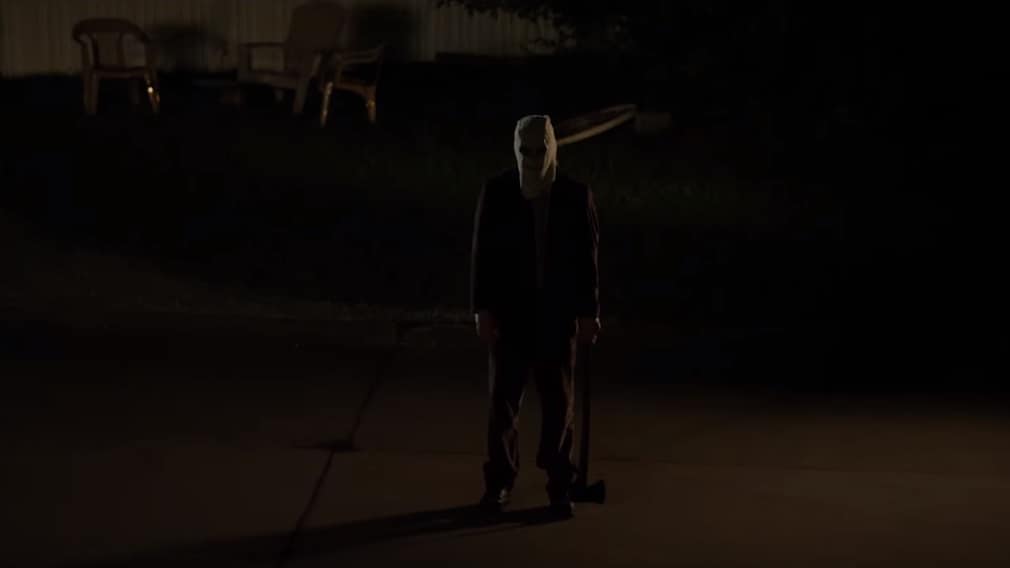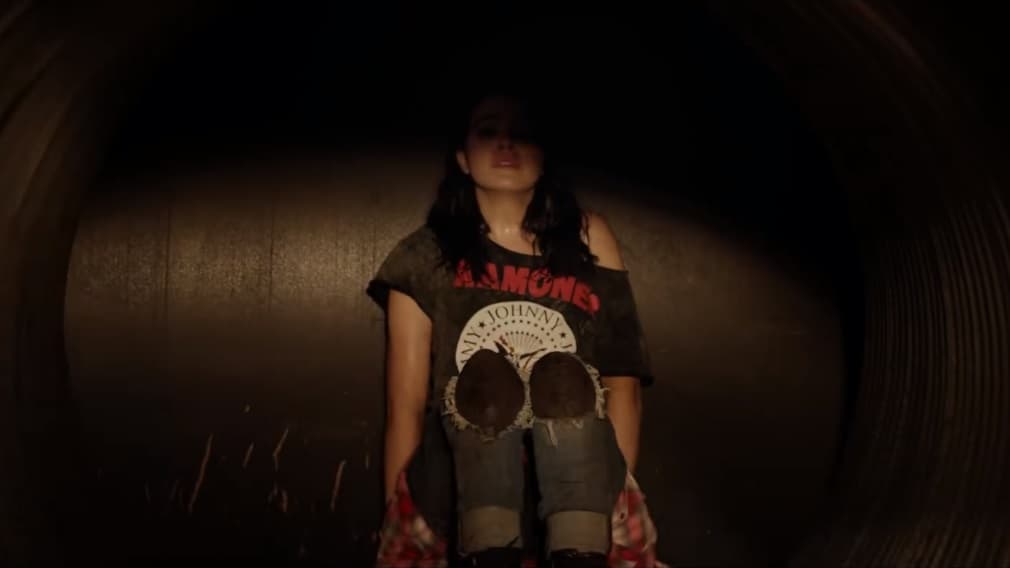 Synopsis: Three masked strangers terrorize a family of four holidaying at an isolated trailer park.
Director: Johannes Roberts
Runtime: 85 minutes
MPAA Rating: R
IMDb: 5.5/10  Rotten Tomatoes: 36%
Netflix (US): No
Tags: Slasher
Jump Scares:  14 (2 major, 12 minor)
Jump Scare Rating: Perhaps somewhat surprisingly, The Strangers: Prey at Night, only has two really major scares and one of these will be familiar to those who have seen the trailer. Almost all the jump scares occur during a half hour section in the middle of the film.


WARNING: The jump scare descriptions listed below may contain minor spoilers
Show Descriptions
Jump Scare Times
26:25 – As Luke enters the trailer Kinsey jumps out at him (as a joke).
27:24 – There is a loud bang as Kinsey and Luke approach the door.
27:44 – A dog yelps and runs out of the room.
28:48 – A sound effect plays as Kinsey removes a sheet revealing two disfigured corpses.
33:43 – As Kinsey climbs out through the skylight, Dollface starts breaking down the wall.
37:14 – There is a loud bang.
37:34 – A window breaks as something is thrown through it.
39:12 – A window is once again broken.
42:40 – A concrete block is thrown at the windshield of Mike's minivan.
44:37 – As Kinsey, who is hiding in a tunnel, yells "Leave us alone!" Pin Up girl appears from the shadows beside her.
52:02 – The Jack In The Box toy pops up as Dollface reveals herself.
56:31 – A truck smashes through the wall of the caravan just after Luke tells Kinsey that they need to find a landline and call 911.
1:00:09 – The Man in the Mask slams on the window.
1:17:53 – There is a knock at the door (this isn't particularly startling although it does occur during a tense scene).
(Major scares in bold)
Download a .srt file of the jump scares in The Strangers: Prey at Night [more info].