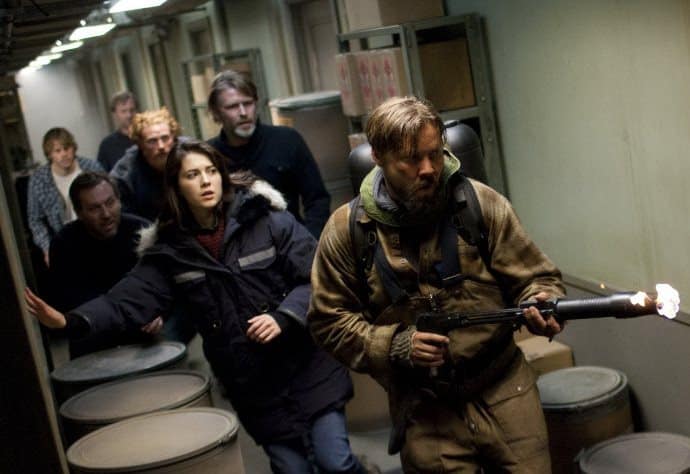 Synopsis: A team of Norwegian and American scientists investigate the discovery of a mysterious alien life form in Antarctica.
Director: Matthijs van Heijningen Jr.
Runtime: 103 minutes
MPAA Rating: R
IMDb: 6.2/10  Rotten Tomatoes: 35%
Netflix (US): No
Jump Scares:  7 (1 major, 6 minor)
Jump Scare Rating: Some jump scares, mainly in the last 30 minutes, however the remake of The Thing is much less "jumpy" than most modern horror movies.

WARNING: The following may contain spoilers
Jump Scare Times
24:44 – Lars scares Derek by shouting "boo" from behind him.
25:07 – The creature suddenly escapes from the block of ice. [Video]
28:55 – One of The Thing's tentacles shoots out and impales Henrik.
1:06:17 – As Lars enters a building, he is grabbed by something and pulled inside.
1:16:20 – A miniature "Thing" jumps at Kate.
1:18:11 – The Thing bursts through a window in front of Carter.
1:29:58 – One of The Thing's tentacles suddenly lashes out at Kate as she inches towards the grenade.
(Major scares in bold)
Download a .srt file of the jump scares in The Thing [more info].