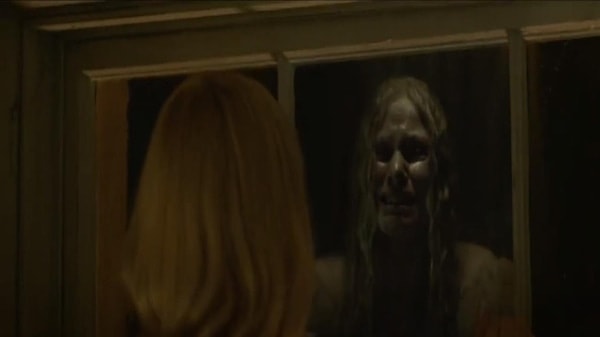 See below for the exact times and descriptions of the 13 jump scares in The Turning, which has a jump scare rating of 3.5.
Jump Scare Rating: An exceptionally bad horror movie with lame jump scares that don't even build up a spark of tension. The majority of the scares come within a few minutes, whereas one of them is set really nasty and will get every viewer off guard.


Synopsis: Remake of the 1961 classic in which a young governess is supposed to teach and care for two children in their estate until the ghost of a deceased employee seems to terrorize the residents.
Contributor: Sean contributed all the information on this page (Sign up now to become a contributor too! Learn more)
Director: Floria Sigismondi
Runtime: 94 minutes
WARNING: The jump scare descriptions listed below may contain minor spoilers

Jump Scare Times
00:12:23 – As Kate searches for Flora in the barn, something pops in the background.
00:12:56 – Kate suddenly finds herself in front of a horse that is being flushed out. The horse is not visible beforehand, a cheap thrill for no reason.
00:20:04 – As Kate tries to close the window, a ghost suddenly appears in the reflection. Very effective.
00:20:53 – Kate turns around and suddenly a mannequin is standing by her door.
00:22:07 – The sewing machine suddenly turns on as Kate leaves the room.
00:34:08 – A spider comes out of the ground and eats the ant.
00:36:31 – Kate jumps into the water as she thinks she sees Flora drowning. Shortly before Kate reaches the person under water she grabs her and screams.
00:38:18 – Kate dives in the tub when you recognize Miles Silhouette. Two seconds later a loud bang sounds for no reason.
01:00:10 – There is a figure in the mirror.
01:09:16 – Kate gets the flashlight ripped from her hand.
01:10:24 – Kate turns around and a mannequin stands behind her.
01:19:15 – A hand comes out of the water and pulls Kate in.
01:26:19 – Quint is suddenly visible in the rear view mirror of the car.
(Major jump scares in bold)
Watch with subtitles that warn you about jump scares! Download the .srt file of the jump scares in The Turning. [More info]
Report inaccurate data: Contact us with the URL of this page and a description of what data is inaccurate. We'll work to get it fixed!