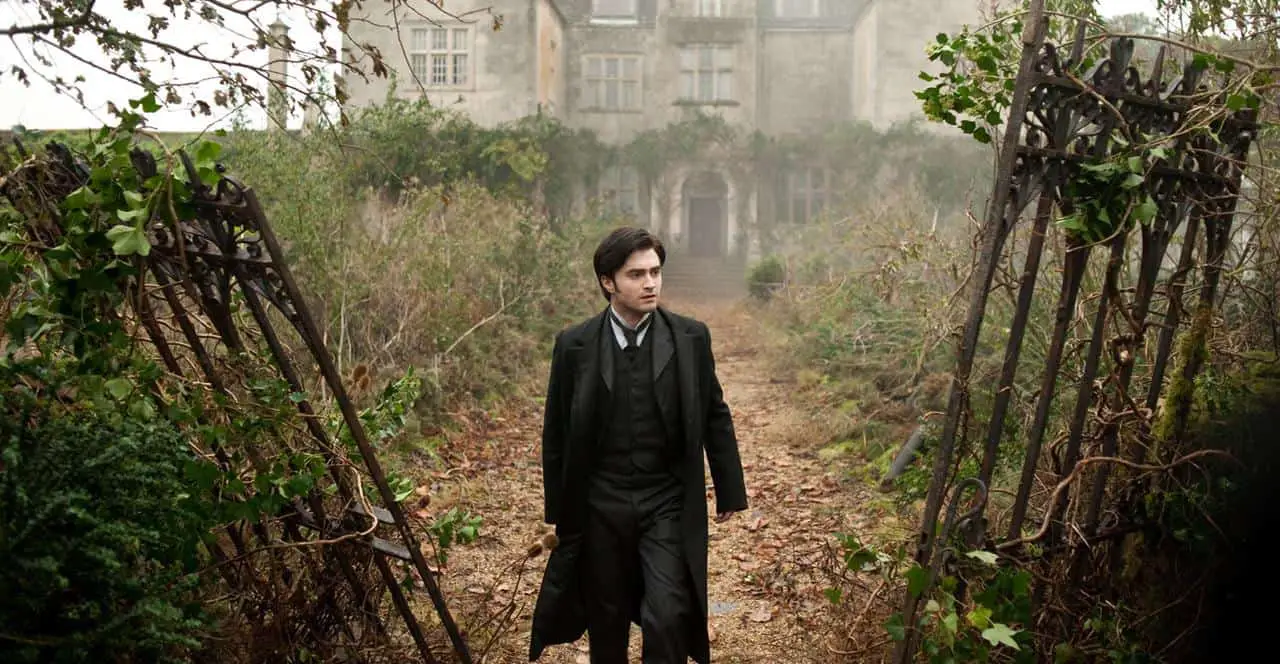 Synopsis: Arthur Kipps, a young lawyer, travels to a remote village to assist in the sale of Eel Marsh House where he discovers the vengeful ghost of a scorned woman is terrorizing the local townsfolk.
Director: James Watkins
Runtime: 95 minutes
MPAA Rating: PG-13
IMDb: 6.5/10  Rotten Tomatoes: 66%
Netflix (US): No
Jump Scares:  16 (1 major, 15 minor)
Jump Scare Rating: Several jump scares, many consist of screaming faces flashing up on screen. Probably best to avoid if you dislike jump scares.


WARNING: The following may contain spoilers
Jump Scare Times
19:43 – Dirty water starts pouring into the bath.
24:00 – A bird flies out of the fireplace.
24:30 – The bird flaps again.
26:10 – A man appears behind Arthur.
37:29 – As Arthur looks through a hole in the door, a face appears.
43:09 – Arthur spins a lamp and sees a face inside.
45:59 – Arthur looks up at a building window and sees a face inside.
47:05 – A face comes up behind Arthur as he looks out the window.
57:54 – Arthur touches the window and upon contact is greeted with a screaming lady. [Video]
1:01:39 – Arthur sees something in the mirror.
1:02:12 – A screaming face appears.
1:03:19 – Arthur opens the door and Mr. Bentley is standing there.
1:22:55 – The woman in black yells and slides towards Arthur.
1:23:05 – The woman in black screams once more.
1:27:40 – Arthur looks around the train station and sees the woman in black.
1:28:07 – Mr. Bentley sees the woman in black behind the train.
(Major scares in bold)
Download a .srt file of the jump scares in The Woman in Black [more info].