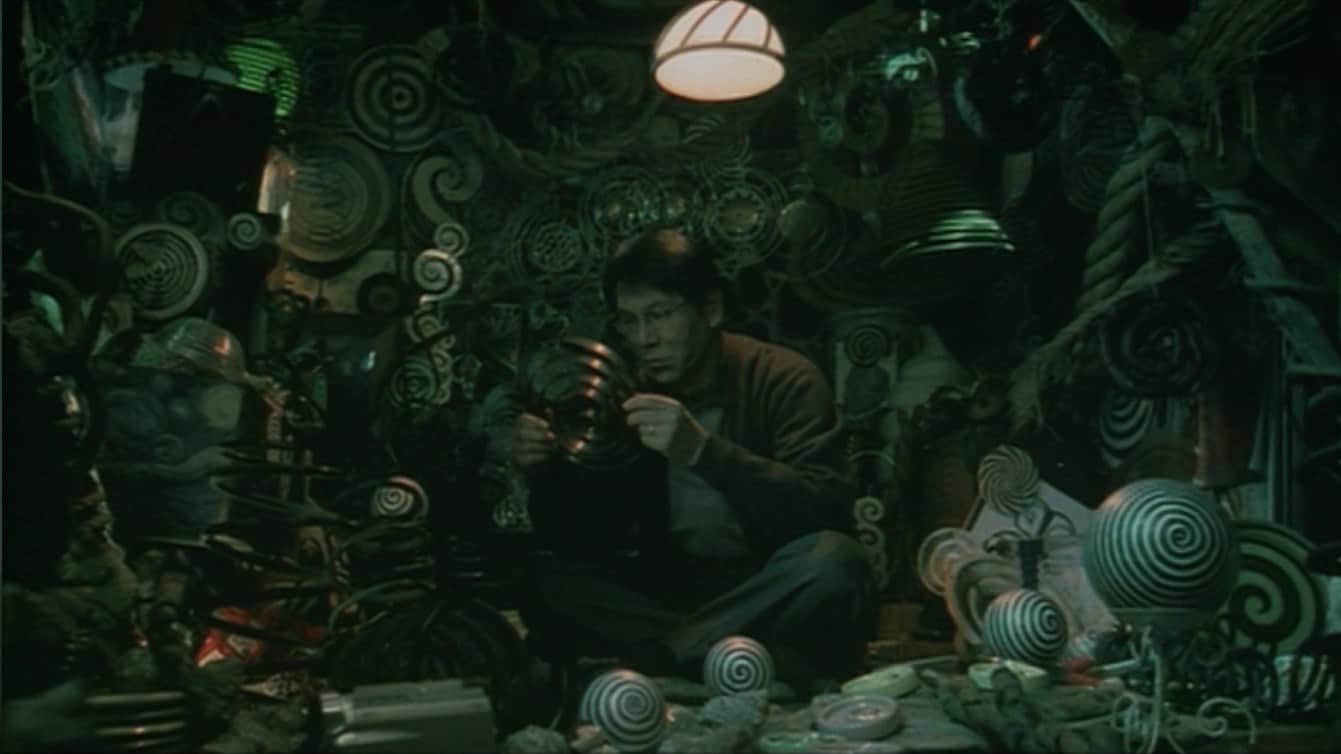 See below for the exact times and descriptions of the 15 jump scares in Uzumaki, which has a jump scare rating of 3.0.
Jump Scare Rating: The director uses abrupt zooms and other camera tricks in order to increase the effectiveness of some of the scares. Many of the jump scares are accompanied by particularly gory imagery which might disturb some viewers.


Synopsis: Residents of a small Japanese town find themselves becoming increasingly obsessed with spirals.
Contributor: Anthony Wilson contributed all the information on this page (Sign up now to become a contributor too! Learn more)
Director: Higuchinsky
Runtime: 90 minutes
WARNING: The jump scare descriptions listed below may contain minor spoilers

Jump Scare Times
00:03:16 – Yamaguchi jumps out, startling Kirie.
00:20:00 – Yamaguchi jumps out, startling Kirie and her friend.
00:21:14 – A body (Miyazaki) falls past Kirie, startling her. This is followed up immediately by a graphic shot of splattered brain matter from Miyazaki's head along with a scream from Kirie.
00:36:40 – Yamaguchi jumps out, startling Kirie.
00:37:15 – The box opens and a Jack-in-the-Box pops out.
00:45:37 – Before Shuichi can finish his sentence, his mother lets out a loud scream and it cuts to her face which is now distorted slightly.
00:51:02 – The TV switches off suddenly.
00:53:37 – As the car turns the corner, Kirie's dad flashes on the screen with a twisted tongue causing the occupants of the car to scream.
00:56:47 – The face opens it's mouth and eyes, a spiral tongue flicking out as the camera quickly zooms in, and Kirie screams.
01:07:39 – Yamaguchi runs in front of, and is hit by a car. This is followed by an unsettingly gory scene.
01:08:11 – The camera rapidly and repeatedly zooms into the eye in the center of the spiral crack.
01:09:20 – The screen silently cycles through all the upsetting imagery that has appeared in the movie thus far.
01:17:23 – The channel changes quickly.
01:23:35 – Shuichi clasps his arms around Kirie.
01:23:50 – Shuichi raises himself in front of the camera.
Watch with subtitles that warn you about jump scares! Download the .srt file of the jump scares in Uzumaki. [More info]
Report inaccurate data: Contact us with the URL of this page and a description of what data is inaccurate. We'll work to get it fixed!