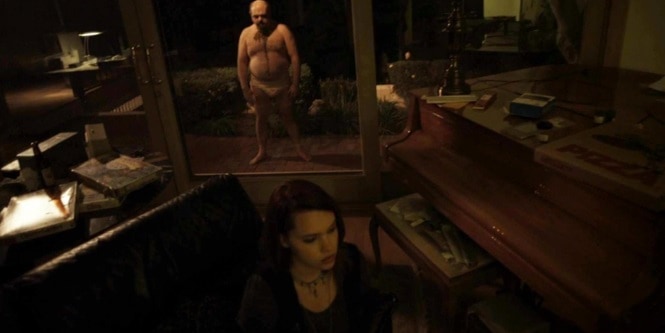 Synopsis: Two private investigators break into a house in search of a missing college student. Inside they discover a set of VHS tapes containing horrific content.

Directors: Simon Barrett, Jason Eisener, Gareth Evans, Gregg Hale, Eduardo Sánchez, Timo Tjahjanto, Adam Wingard
Runtime: 96 minutes
MPAA Rating: R
IMDb: 6.1/10  Rotten Tomatoes: 70%

Netflix (US): No
Jump Scares: 14 (4 major, 10 minor)
Jump Scare Rating: Jump scares are present throughout the film but are most prevalent in the "Phase I Clinical Trials" segment.


WARNING: The following may contain spoilers
Jump Scare Times
— Video #1 (Phase I Clinical Trials) —
11:53 – After pouring a drink, Herman heads back to his game and hears a loud bang from another room.
13:10 – Herman pulls away the sheets on his bed revealing no one is there. He then spins around and a man is standing behind him.
14:38 – Lights flicker down the hallway revealing a girl standing at the end of it.
14:48 – Herman spins his head back to the hallway but the girl is standing right in front of him.
19:58 – Herman spins around to face Clarissa and sees a man in underwear standing outside.
20:32 – The man in underwear is suddenly standing inside the house.
22:12 – Herman pulls away the sheets to reveal a screaming little girl underneath.
23:22 – Something splashes in the pool.
— Video #3 (Safe Haven) —
58:29 – The body lying on the table suddenly jolts upwards after the cameraman begins to cover her face with a sheet.
— Video #4 (Slumber Party Alien Abduction) —
1:20:47 – Aliens burst into the room.
1:24:48 – After the police disappear, aliens suddenly appear in the field.
1:25:15 – Aliens appear in the field in front of the camera.
— Framing Narrative —
1:28:45 – Ayesha suddenly attacks Larry.
1:29:31 – Ayesha suddenly appears in front of the partially open closet and is shot by Larry.
(Major scares in bold)
Download a .srt file of the jump scares in V/H/S/2 [more info].