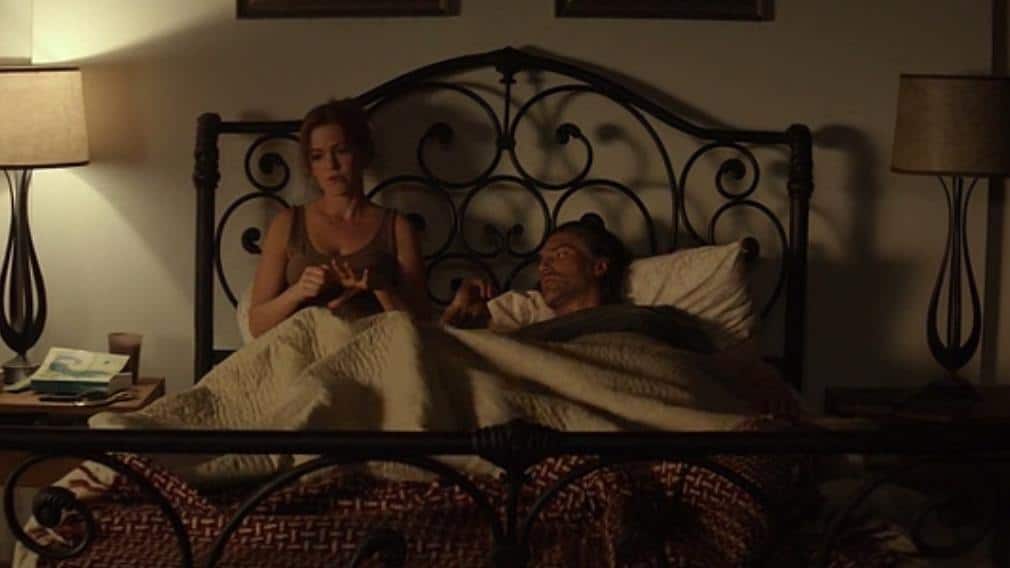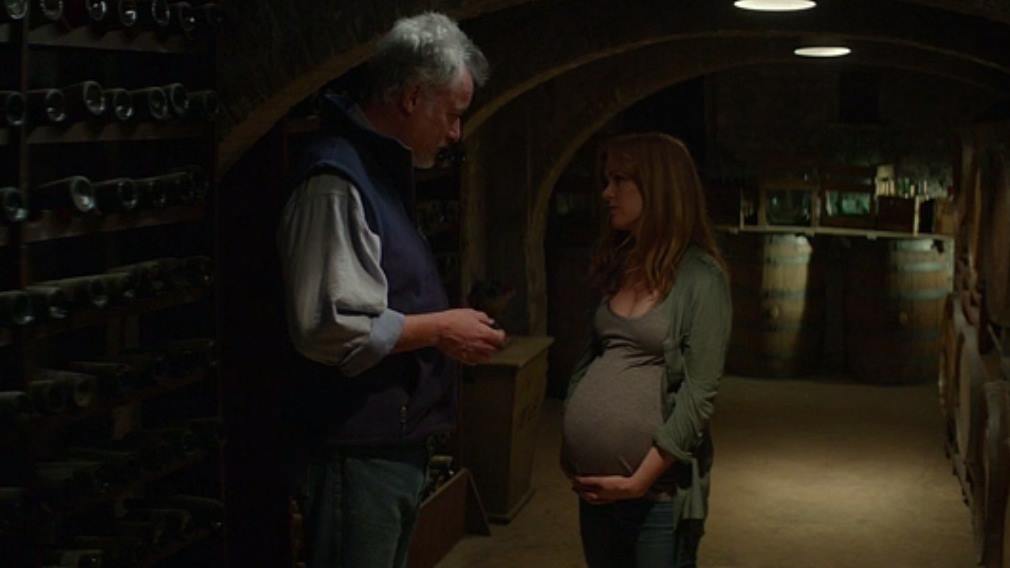 Synopsis: A woman, Eveleigh, moves to a vineyard to begin a new life with her husband after being involved in a car crash. A series of disturbing Visions lead Eveleigh to believe supernatural forces may be present at the house.
Director: Kevin Greutert
Runtime: 82 minutes
MPAA Rating: R
IMDb: 5.3/10  Rotten Tomatoes: 21%
Netflix (US): No
Jump Scares:  10 (3 major, 7 minor)
Jump Scare Rating: Several jump scares in the early and middle parts of Visions. The scares are accompanied by loud sound effects that make some of the early scares quite startling. Sensitive viewers should probably avoid.


WARNING: The following may contain spoilers
Jump Scare Times
14:49 – Accompanied by a loud sound effect, Eveleigh removes her blankets to reveal blood around her pregnant stomach.
24:54 – Eveleigh looks through the peephole in the door and sees a dark hooded figure right by the door. She then turns around and runs into David.
28:08 – There is a loud knock at the door.
28:37 – The wine bottles explode suddenly.
35:14 – A loud noise startles Eveleigh.
38:36 – David suddenly transforms into the hooded figure.
39:30 – Eveleigh turns around and a mannequin is suddenly right behind her.
47:35 – The window suddenly breaks in front of Eveleigh and a few seconds later Eveleigh is pushed to the ground by an unseen force.
51:23 – An apparently dead body suddenly splashes in the water.
53:15 – A blood splatter appears on the wall beside Eveleigh.
(Major scares in bold)
Download a .srt file of the jump scares in Visions [more info].