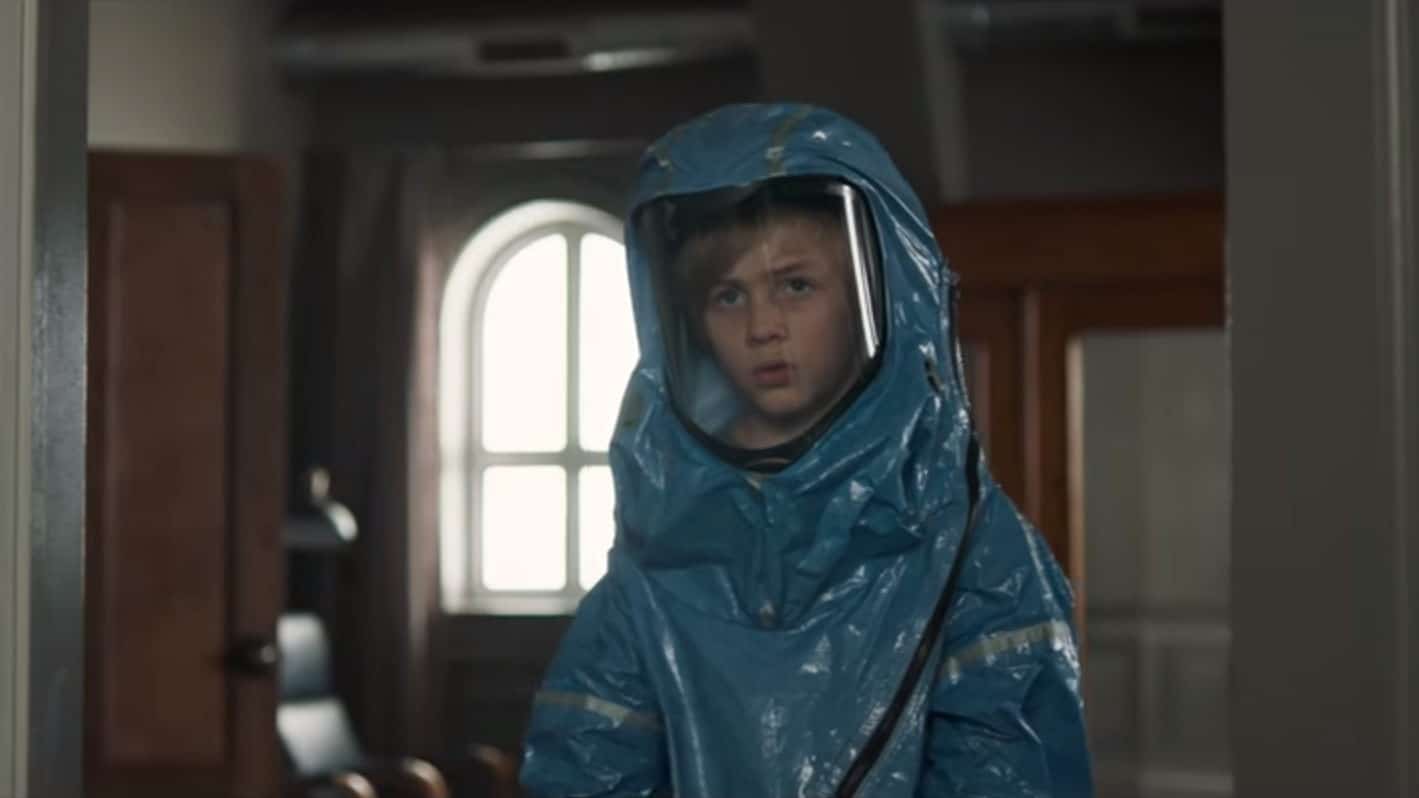 Synopsis: A boy, Eli, becomes trapped in a seemingly haunted medical facility where he is undergoing treatment for a rare auto-immune disorder.
Director: Ciarán Foy
Runtime: 98 minutes
MPAA Rating: R
IMDb: 5.9/10  Rotten Tomatoes: 50%
Netflix (US): Yes
Tags: Haunted House / Building, Loner / Misfit, Religion / The Occult
Jump Scares:  13 (4 major, 9 minor)
Jump Scare Rating: There are numerous jump scares that occur mainly the middle part of the movie, often involving mirrors or windows.


WARNING: The jump scare descriptions listed below may contain minor spoilers
Show Descriptions
Jump Scare Times
Netflix reverse time-stamps are included in brackets.
19:03 (1:19:03) – A hand print appears on the window, accompanied by a loud sound effect.
25:44 (1:12:22) – Eli wakes up suddenly (this is accompanied by a sound effect).
27:14 (1:10:52) – A stone suddenly hits the window, startling Eli.
28:31 (1:09:35) – As Eli wipes the condensation off the window, the girl jumps out and says "BOO!"
32:21 (1:05:45) – As Eli runs down the hallway, he shines the torch back into the darkness and the ghostly girl is suddenly running right towards him.
32:29 (1:05:37) – The lights turn back on and a shadowy figure stands right behind Eli.
32:44 (1:05:22) – The shadowy figure bursts through the curtain but it is revealed to only be Eli's father.
37:16 (1:00:50) – Eli moves the mirror slightly to reveal a ghostly girl standing in the room behind him.
37:33 (1:00:33) – A hand suddenly grabs onto the cupboard.
43:57 (54:09) – As Eli slowly turns around, a hand reaches out from behind the shower curtain.
48:23 (49:43) – An invisible presence pulls at Eli's top (not particularly startling however it is accompanied by a high pitched sound effect).
58:51 (39:15) – During a tense scene, the sound of the automatic door closing behind Eli may be startling to some.
1:17:19 (20:47) – Rose pushes the top off the stone well to reveal several corpses inside.
(Major scares in bold)
Download a .srt file of the jump scares in Eli [more info].