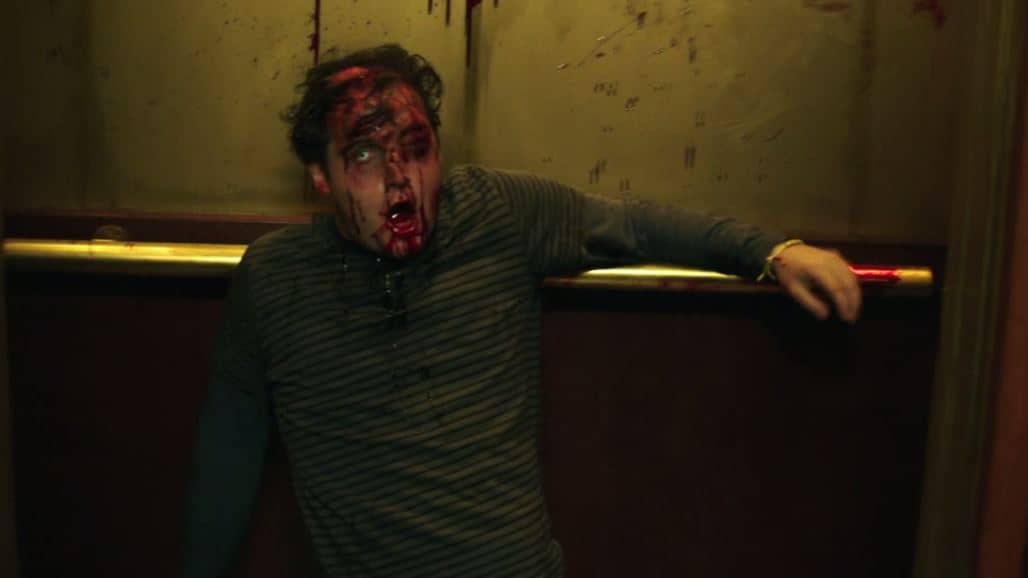 See below for the exact times and descriptions of the 21 jump scares in Friend Request, which has a jump scare rating of 4.0.
Jump Scare Rating: Generic jump scares that are generally accompanied by a loud sound effect in an attempt to scare viewers. Although seasoned horror movie watchers will find these predictable, those who dislike jump scares should probably avoid.


Synopsis: After unfriending a lonely girl on Facebook, popular college student Laura finds her friends being killed off one by one by a mysterious demonic entity.
Contributor: Anthony Wilson contributed all the information on this page (Sign up now to become a contributor too! Learn more)
Director: Simon Verhoeven
Runtime: 92 minutes
WARNING: The jump scare descriptions listed below may contain minor spoilers

Jump Scare Times
00:02:21 – The cat lunges at the screen and hisses.
00:11:53 – During a dream sequence, Laura follows a wasp along the window and suddenly sees Marina standing in front of her.
00:13:26 – A startling image of some disfigured faces flashes up on the screen.
00:22:22 – As Laura backs away from the mirror, a demonic face appears beside her.
00:25:29 – A sketch of Laura's face is pulled away from the camera suddenly to reveal a disheveled looking Marina.
00:34:43 – Gustavo looks down and sees the two disfigured faces from Marina's Facebook page.
00:35:49 – A hand grabs Gustavo and the screen goes black.
00:36:33 – Gustavo runs past the camera.
00:47:26 – A close up of some eyes suddenly appears on the computer screen.
00:47:39 – A demonic face appears at the door as Kobe runs towards it.
00:50:33 – A door slams shut.
00:51:54 – The corpse like figure on the bed sits up.
00:52:58 – The person in the bathtub looks at Isabel.
00:58:50 – Olivia looks up from the paper and sees a girl slitting her throat.
01:03:14 – A phone rings during a tense scene.
01:03:38 – Olivia looks through a peephole and sees the demonic girl's face.
01:04:14 – A body falls on Tyler's car.
01:08:36 – A man is suddenly attacked by Olivia.
01:11:11 – As Kobe backs away from the demon girl he bumps into Laura.
01:13:51 – Kobe stabs Laura.
01:25:43 – Laura turns around and the demonic girl rushes at her.
(Major jump scares in bold)
Watch with subtitles that warn you about jump scares! Download the .srt file of the jump scares in Friend Request. [More info]
Report inaccurate data: Contact us with the URL of this page and a description of what data is inaccurate. We'll work to get it fixed!